Source: www.rucriminal.info
Rucriminal.info continues to acquaint readers with the secret report of Interpol, including intelligence information, reports from national bureaus of different countries, materials of "wiretaps" and surveillance of immigrants from the Russian Federation (primarily members of the Solntsevo group) and related persons, among which there are a lot of large businessmen, former and current officials. In this article we cite a number of persons who, according to Interpol, were closely associated with the Solntsevo organized crime group. We also provide excerpts from the investigation of the fake works of art, including Faberge eggs. Interpol believes that Mikhail Shemyakin and Ernst Unknown helped in this Solntsevo.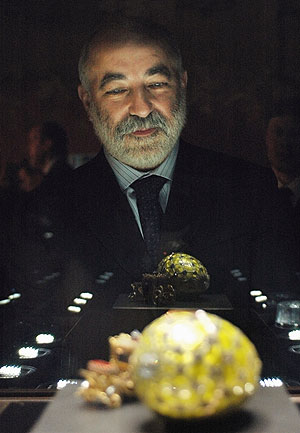 According to the report of Interpol, which is at the disposal of Rucriminal.info, the following persons helped the Solntsevo organized crime group:
VOLODIN Valery D. - Doctor of Medicine, Professor, First Deputy Director of the Government Medical Center of the Russian Federation. He was also the personal physician of President Boris Yeltsin and managed the activities of all Russian state hospitals. He was an accomplice of Tofig AZIMOV and Vladimir KOSHEL, participated in fraudulent contracts for the supply of medical equipment and medicines. VOLODIN had a secret account with Creditanstalt Bank in Vienna (Austria), which held 50,000 US dollars.
VEGROSTEK Joseph
Austria
VEGROSTEK Joseph "Sepp" (Dr.) was the main intermediary between Sergey MIKHAILOV and Victor AVERIN and the Austrian government. VEGROSTEK is a well-known lawyer represented by MIKHAILOV and AVERIN Tofik AZIMOV. VEGROSTEK carried out operations for AZIMOV, MIKHAILOV and AVERIN and was a close friend of the former Austrian Interior Ministers Franz Loeschnak and Caspar Ainem *. It was said that he organized several lunches in Vienna, at which senior Austrian law enforcement officers met directly with Sergei MIKHAILOV and Tofik AZIMOV. These officials included Mr. Zilk, the former mayor of Vienna, Mr. Kesslep, the former head of the police force, who later joined the Ministry of the Interior, and Mr. Franz Loesnak, the former Minister of the Interior.
* Note analytics. Dr. Caspar Einem was Minister of the Interior of Austria from April 6, 1995 to January 27, 1997. He was also a member of the Austrian parliament.
YAKUBOVSKY Dmitry
Dmitry Olegovich YAKUBOVSKY (born on September 5, 1963), before imprisonment, was MIKHAILOV's lawyer. In 1993, during an investigation into the murder of Valery VLASOV, YAKUBOVSKY destroyed material evidence in MIKHAILOV's apartment. Currently, he is again a lawyer MIKHAILOV. YAKUBOVSKY - a former officer of the KGB (State Security Committee) and took part in various political actions in Russia, where he was arrested in 1994.
According to open sources, Yakubovsky became a general thanks to Rutsky and Yeltsin. When the Russian army left the former East Germany, it left ammunition and military equipment there. This equipment was allowed to be sold, and YAKUBOVSKY sold it, with the participation of the Chechen criminal group, to Iraq.
(Additional information on Yakubovsky can be obtained upon request from the General Secretariat of Interpol, and some information has already been placed in other reports on the Millennium Project.)
According to Interpol's NCB in Austria, in 1997 150,000 diamonds and precious stones worth about $ 7.5 million were allegedly seized from individuals associated with the Solntsevo criminal gang. The theft of diamonds was carried out directly in the places of extraction, and cutting - in clandestine workshops. In a similar situation, senior government officials were involved, in particular, employees of the Roskomdragmet Precious Metals Committee and the Ministry of the Interior.
Rucriminal.info cites a fragment of Interpol's report on how the Solntsevskaya faked works of art:
"According to reports, Sergei MIKHAILOV, Victor AVERIN and Semyon MOGILEVICH organized workshops for the production of jewelry that were sold abroad. The Solntsevo criminal gang controlled operations with works of art, antiques, and jewelry in Poland and Austria.
This information was confirmed by the Interpol NCB in Washington. In early 1995, Sergei MIKHAILOV and Victor AVERIN agreed with Semyon MOGILEVICH to invest a large sum of money in a joint jewelry enterprise in Moscow (Russia) and Budapest (Hungary). This business was supposed to serve as a cover for the purchase of jewelry, antiques and works of art that the Solntsevo criminal group planned to steal in Russia and sell in the West through Budapest. Works of art and antiques were about to be stolen in churches and museums in Russia, including the Hermitage in St. Petersburg.
To ensure this plan, the Solntsevskaya criminal gang acquired a large jewelry manufacturing company in Budapest. The company was equipped with French equipment for the production and repair of jewelry. The joint venture also controlled a chain of jewelry stores in Moscow and established the Golden House company, located near Sportivnaya metro station. The director of the Golden House was Boris (surname unknown), who reportedly acted under the protection of Mikhail KUDIN. The Golden House owned a manufacturing enterprise and an exhibition hall. Gold items were to be made in Moscow and sent to Budapest, where precious stones were to be inserted into them. Stolen antique items, such as Faberge eggs, should also have been sent from Moscow to Budapest for "restoration." In fact, Semyon MOGILEVICH sent antiques to London (Great Britain), where they were put up for auction at Sotheby's. Fake Faberge eggs or other antique items were to be sent to Moscow in exchange for the "restored" ones. Two-thirds of the antiques were stolen immediately, and the rest went to a network of pawnshops in Moscow controlled by the Solntsevo criminal gang.
Solntsevskaya also "worked" with owners of works of art and jewelry. Clients of pawnshops were tracked by address and then became victims of groups acting on behalf of the Solntse group. Home theft was the usual method used to obtain valuable antique and jewelry. In early 1995, the Solntsevskaya criminal gang announced that it had already sent $ 3 million worth of antiques from Russia for auction at Sotheby's in September or October 1995.
Felix Ruvimovich KOMAROV (born January 25, 1948), a Rolls-Royce sales agent in Moscow and an accomplice of IVANKOV and the Podolsk organization (see Interpol General Secretariat report "Millennium Project: The Black Brothers", option II), opened in New York art gallery "Russian World Gallery". This art gallery supposedly belonged to one KOMAROV, however, in reality, his partners were Sergey MIKHAILOV and Victor AVERIN, Semen MOGILEVICH and Riccardo FANCHINI. According to reports, KOMAROV involved two famous Russian sculptors, Ernst UNKNOWN and Mikhail SHEMYAKIN, who were among the first to sell their work abroad. They agreed to create works similar to Faberge eggs, as well as other figurines of gold, platinum and silver, decorated with precious stones. For this, three special enterprises were acquired - two in Europe and one in New York.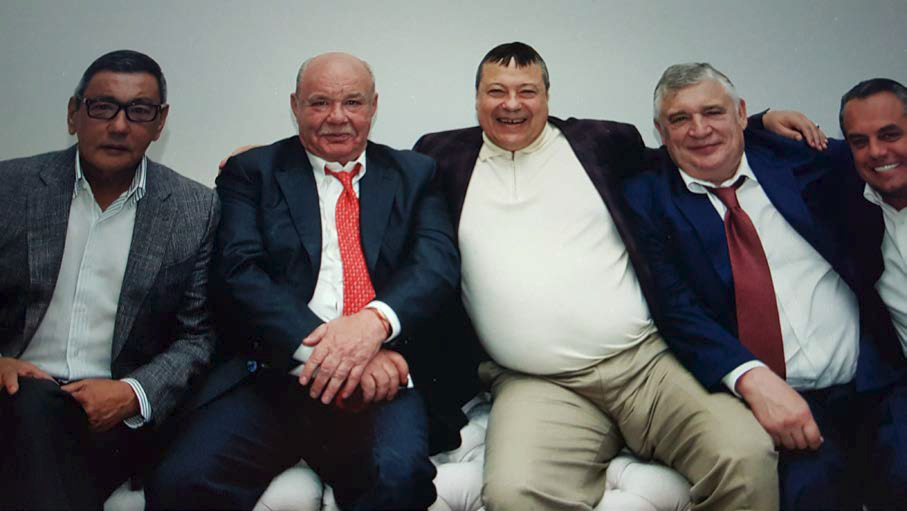 At the end of April 1996, the KOMAROV Gallery held an exhibition at the Russian Consulate in Manhattan. Among the sponsors were Rolls-Royce (Moscow) and Kremlin Vodka FANCHINI. About 400 works of art were exhibited. Sales on opening day exceeded $ 1 million. "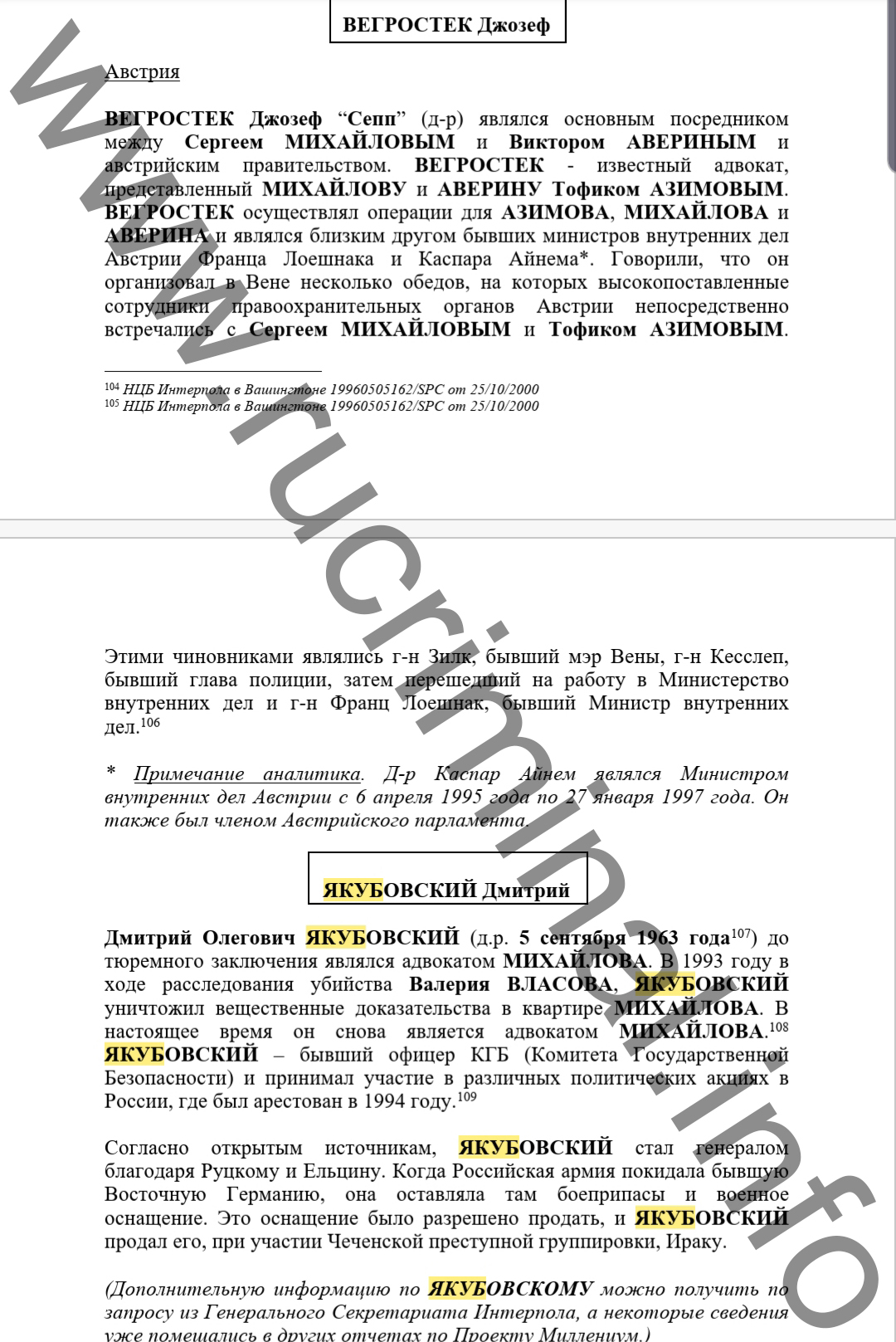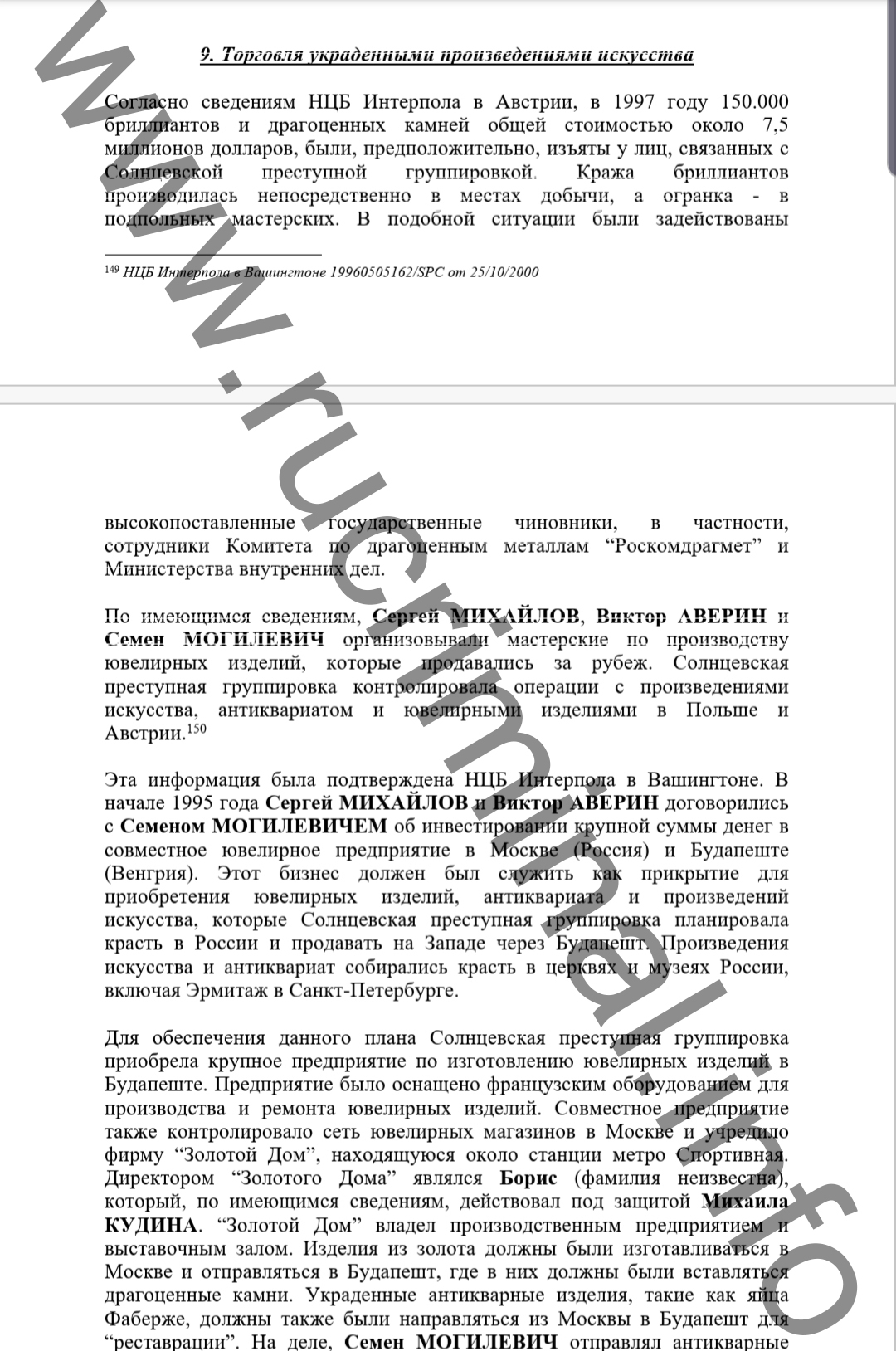 To be continued
Alexey Ermakov
Source: www.rucriminal.info