Source: www.rucriminal.info
Rucriminal.info continues to study the report of the Interpol of the early 2000s "Millennium", dedicated to the activities of the Solntsevo group. And we find in it all new interesting points. In this article, we present two fragments of the report. The first cites "thieves in law" associated with the Solntsevo organized crime group. And secondly, there are lawyers, businessmen and other people who have been closely interacting with Solntsevo for many years. Among them, for example, the famous lawyer Alexander Gofshtein.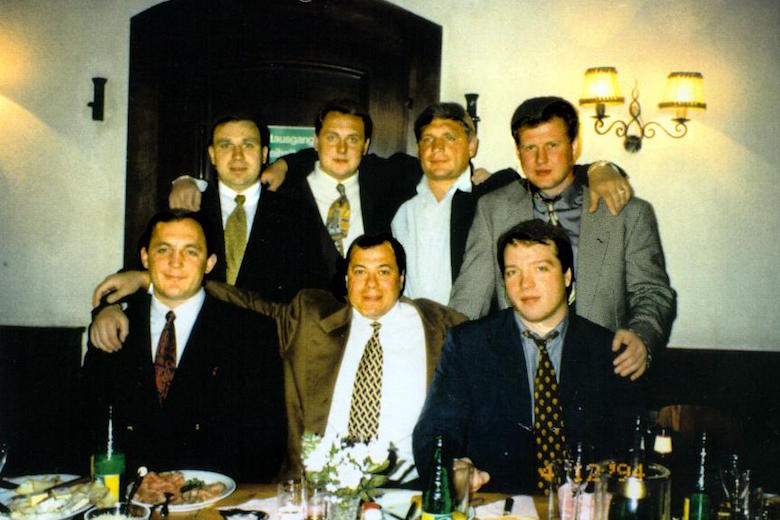 The Solntsevo group includes 6 main thieves in law:
(see below the diagram "Leaders and the structure of" Solntsevo ")
1. "Japanese" or "Jap" or "Little Japanese" or "Glory" or "Glory to Jap" - nicknames of the Russian citizen Ivankov Vyacheslav Kirillovich, who was born on 2.01.1940, who is the most famous "thief in law". He is the head of the criminal world, he is responsible for the big "common fund" (total money fund) of all the criminals of the former Soviet Union. There is evidence that he is the leader of Russian organized crime. Not all thieves in law recognize Ivankov's leading role, but they do not discuss this topic for fear of being killed. It is believed that he is / was the head of Russian organized crime in the United States. He oversaw all cocaine trafficking, prostitution and money laundering activities. The connection between Ivankov and the Solntsevskaya group is confirmed by the Prague Central Interlocking Bureau.
Notes: he controls prostitution through brothels: in accordance with the thief in law code, he is not entitled to directly profit from prostitution.
Ivankov was arrested on June 8, 1995 in the United States and is now in prison. Through extortion, he received $ 2.7 million from the owners of the Summit International Company, based in the US in the name of Alexander Volkov, born on September 29, 1960. and Voloshin. Ivankov was sentenced to 9 years and 8 months in prison.
In 1982, Ivankov was already convicted in Russia for armed robbery, illegal possession of firearms, falsification of documents and drug trafficking.
In November 1991, he continued to engage in illegal business. In addition, on April 4, 2000, Moscow authorities issued an arrest warrant for Ivankov, who was charged with murder, asking him to determine his whereabouts. US authorities informed the NCB of the Interpol of Moscow that at that time Ivankov was in the US prison and would only be released in January 2004.
2. Okunev Alexander, nicknamed "Spark", born July 17, 1962 He may replace Ivankov after his death. Until recently, Okunev was the head of the criminal organization Odintsovo, headed by Denga Victor. In 1995, a thief in law stabbed money. He turned to Okunev for help, but he was not able to solve this problem. Then Money turned to Mikhailov. Mikhailov helped Money in exchange for 70% of his areas of influence. The Odintsovo group merged with the Solntsevo group and Okunev was included in it.
3.Dzhonua Beslan nicknamed "Besik", b. 1953
His nicknames: Basik, Besik, Besky. Known as: Jonua Beslan, born on December 25, 1953 (NCB of the Interpol of Jerusalem), Dzhonova or Dzhumba Beslan, born on December 15, 1953 (NCB of the interpol of Washington), Dzhonov or Dzsonov Beslan Alekseevich, born on 12/26/1954 (NCB Interpol France). He has dual citizenship - Russian and Hungarian, Russian passport No. 41-1027796.
According to the NCB Interpol Washington, he is a member of the Solntsevo organization and, according to their leader, lived in Paris while he sought refuge in France. According to another source, Jonua was not a member of the Solntsevo group. Despite this, he is a "thief in law" and a friend of Mikhailov, and also has contact with Tokhtakhunov, Oniani, etc. He makes decisions and participates in agreements as an intermediary.
According to information from the NCB of the French Interpol, his name surfaced during an investigation conducted by Great Britain in 1995 on money laundering against Kurchard Adrian, his wife Grigoryeva Galina and Mogilevich Semyon. Jonua was wanted in France on suspicion of money laundering and was found on a fake Hungarian passport.
In accordance with the information of the NCB of the Jerusalem Interpol, Mikhailov gave instructions to the suspects of the Russian Romance to expedite the procedure, as a result of which Jonua could obtain citizenship. His Israeli citizenship was a gift personally from Mikhailov. French police contacted Jonua through senior members of criminal organizations, including Oniani Trial, who is currently in prison in France.
1) Thanks to fictitious marriages and using fake documents, many citizens of the former Soviet Union illegally obtained Israeli citizenship.
4. Khachidze Cemal, born June 16, 1937
His nicknames: "Jimal"; Jamal "Jem or Jamal or Jemal or JemalSupam.
He is also known as Kachidze Dzhemal Konstantinovich; Chachidze Jamal; Jimal Konstantinovich; Chachidze Jamal; Chachidze Jemal; Cacije Jamal; Gachidze Jemal; Khashidze Dzhemal Konstantinovich, born 19.12.1932; Khachidze Dzhemal Konstantinovich, born June 16, 1937; Khachidze Jamal Konstantinovich; Shachidze Jamal, born June 16, 1937 In the NCB of the interpolation of Washington and Prague, he is known as Khachidze Dzhemal Konstantinovich, "Dzhemal", born January 16, 1937 He is known to the police in Germany as Chachidze Jamal Konstantinovich, born on June 16, 1937 in Surami. He is Russian and has a Russian passport No. 00283844.
According to the NCB Interpol Washington, Khachizou is a thief in law who represented the main strength of the Solntsevo organization. Mikhailov and Averin rehabilitated Khachidze after his release from prison. He controlled the import and distribution of drugs (cocaine) in Moscow. According to another source, Khachidze is not such a significant figure, and Mikhailov and Averin simply provide him financial assistance.
In accordance with the information provided by the NCB of the Swiss interpol, he acts as an arbiter in case of unexpected problems in the group. This information was confirmed by the NCB of the Interpol of Moscow, which stated that Khachidze was involved in the links between the Solntsevo group and the so-called thieves in law - leaders of the criminal world.
According to the NCB Interpol Prague, he was responsible for the distribution of cocaine. It is reported that in 1994 he ordered the assassination of Oleg Karataev, the former world boxing champion, who worked for his group and stole money from the drug trade.
The NCB of Interpol Wiesbaden said that according to the authorities of the Russian police, Khachidze belongs to the Solntsevskaya and Kutaisis groups, and it is also said that he is an influential member of the leadership of the Russian organized group in France. The NCB Interpol Wiesbaden also reports that it has property in Alicante / Spain, not very far from the property of Kalachov. Khachidze Dzhemal, born on 16.06.1937, in 1997 and in 1998, twice applied in Moscow with a request for a visa to Germany. He registered in Germany on March 8, 1998, showing his passport No. 0009964. He has a house in Khashuri / Georgia, where he stayed in July 1998.
The NCB of the Interpol of Prague added that the identified Khachidze Cemal, born December 19, 1937, passport No. 083844, took part in a meeting of leaders of organized crime, which was held in 1995 in Prague / Czech Republic.
In accordance with the information of the NCB of the Interpol of London, Khachidze founded the company Mercury and Mars (or Mars and Mercury) in the USA and the real estate agency Consult S.A. in Moscow. According to the NCB Interpol Wiesbaden, he acts as a partner in Baltic Shipping Gmbh (Bremen / Germany), which is a subsidiary of a large shipping company in St. Petersburg.
5. Kalachov or Kalashov Zakhary or Zakhar Knyazevich nicknamed "Shakro" or "Shakro Young", was born 03/20/1953 in Tbilisi / Georgia. He is a Russian and a thief in law. In March 2000, the NCB of the Interpol of Moscow released the Green Leaf S-26 / 3-2000 on it. He was convicted three times in Georgia in 1975, 1980 and 1985. He is the cashier of a large common fund and is responsible for families involved in oil production in the countries of the former Soviet Union. It is reported that he is now in a Moscow prison on suspicion of drug trafficking, but has not yet received any sentence.
Notes: Green Leaf - information about a person who committed a crime that affects the interests of several countries. His fingerprints are available in international interpolation.
In accordance with the information of the NCB of the Interpol of Kiev, Kalachov along with Oniani Tariel, born on 2.06.1958 are the organizers of the murder of the Ukrainian deputy Getman Vadim, committed on 04/22/1998 in Kiev. According to the NCB Interpol Madrid, Kalachov and his accomplices were wanted in Alicatne / Spain for the trade in white slaves and money laundering. According to the NCB Interpol Wiesbaden, Kalachov really owned property in Alicante / Spain.
6. Bizikachvili Nikolay nicknamed "Tsika", b. 1956 It is reported that he was killed.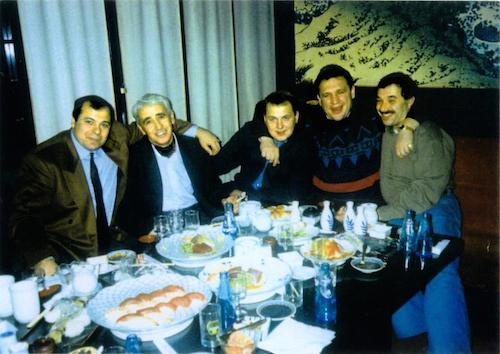 Other Members
I-Members:
According to the Interpol NCB in Prague and Washington, as well as in Bern and Jerusalem (see links), the following persons are also members of the Solntsevo group:
BELOV Dmitry
è Dmitry BELOV, also known as Dmitry BARANOVSKY, nicknamed "Bely" (white chlorine) 445, was vice president of the "D&R Sports Center" (sports center) in Moscow, Russia, and Nantikouk, PA. According to Belov, he controlled the casinos, banks and restaurants for the organization. He also finds and acquires new businesses.446
FERRONITSKY SERGEY
Russia
FERRONITSKY Sergey, or VERONSKY447, according to information, was one of the commercial directors of Sergei Mikhailov and Victor Averin. Its main company was Vnecom, the main distributor of Mars Candy Corporation products in Russia448. He is one of the Solntsevskaya treasurers together with ORLOV Leonid. 449
KALMANOVICH Shabtai
Hungary
è According to KALMANOVICH Shabtai, clan On December 18, 1947, Israeli passport No. S-003015 was an influential Solntsevskaya partner. He lived in Budapest, Hungary. He was an expat millionaire from Russia, as well as an Israeli citizen associated with former KGB agents and senior officials from Russia, Israel and other countries around the world.
KALMANOVICH owned land in the West African country of Sierra Leone, where he reportedly managed the affairs of the imprisoned Marat Balagula, the former head of the Organization in New York. KALMANOVICH also owned the company Liat Natalie, which had exclusive rights to import pharmaceutical and medical products from Hungary to Russia. These enterprises brought about $ 5 million in revenue per month. KALMANOVICH's partners in this lucrative business were Joseph KOBZON and imprisoned Vyacheslav IVANKOV.
KALMANOVICH for a short time received Israeli passports for members of Solntsevskaya, including the organization of Mogilevich. Given the ease with which KALMANOVICH drew up documents for members of the organization, KALMANOVICH probably has connections with the Israeli government. 450
According to other sources, KALMANOVICH, nicknamed Spy, is a member of Solntsevskaya, namely her financial group. Reportedly, he was sentenced to 10 years in Israel for espionage, but was released thanks to KOBZON. He was involved in the pharmaceutical business along with KOBZON, as well as in the smuggling of diamonds. He was a friend of MIKHAILOV and introduced him to the authorities of South Africa, as well as to the president of Costa Rica. However, due to the conflict with KOBZON, its influence in Solntsevskaya decreased. He is co-founder of a large food market with Arnold TAMMOM. 451
Boris KANDOV
Austria
(see also the chapter on the business of Solntsevskaya)
According to the NCB Interpol Sofia, Boris KANDOV, or Boris KANDOFF, kind. December 27, 1946, the holder of Israeli and Austrian passports, is a member of Solntsevskaya .452 According to other sources, the member of Solntsevskaya is the son of Boris KANDOV, Mark Borisovich KANDOV, born. July 8, 1969 Boris KANDOV runs Agroplus K + M AG Zug in Zug, Switzerland, founded by the IVANKOV family. He also managed the affairs of AgroTech import-export company in Vienna. There is also Agro Plus in Russia. Boris KANDOV also does business in Uzbekistan. 453
Werner KOGERLE
Austria
(see also the chapter on the business of Solntsevskaya)
è Werner KOGERLE was the chief assistant to Sergei MIKHAILOV and Viktor AVERIN after their arrival in Vienna in 1993. At that time, he was a broker of a real estate agency and he found MIKHAILOVA and AVERINA apartments. KOGERLE then worked for Solntsevskaya as a translator and courier in Vienna, Austria. He traveled a lot from Vienna to Budapest and Prague. He also participated in drug smuggling and the smuggling of fake US dollars. KOGERLE legally had a Swiss watch company in Vienna. He hired Russian citizens. KOGERLE was the main liaison in Austria for Solntsevskaya and David SANIKIDZE. 544
Vitaly Leyba
Vitaly Leyba is an active member of Solntsevskaya and a friend of Mikhailov. He is a thief in law; he comes from Ukraine. He is more of a businessman, not an action movie. He is the managing director of the Red Star modeling agency in Moscow, affiliated with the Elite agency in Kiev. He conflicts with other Ukrainian authorities. LEYBA has been living in Hungary since 1990, and began working at Red Star in 1996 by order of TAMMA and AVERINA, since he needed a director. Solntsevskaya hostage took the daughter of the director of the Elite to sell the shares of LEIBE. BILUNOV is associated with the agency "Elite". Arigon is a co-founder of Red Star .455
Jose Martinez-Lamela
Argentina
(see also the chapter on the business of Solntsevskaya)
и Jose Felix MARTINEZ-LAMELA was an Argentine businessman and a former naval officer and partner of Mikhail Mikhailov and Victor Averin, Mikhail Mikhailov. Tofig AZIMOV hired MARTINEZ-LAMEL to work for Solntsevskaya. MARTINEZ-LAMELA had an Argentinean diplomatic passport and was presented as a person with great connections and experience working with fake travel documents. He usually carried with him a small bag with entry and exit stamps to edit and issue new passports. According to information, MARTINEZ-LAMELA collected a number of documents for use by MIKHAILOV and AVERIN Viktor. MARTINEZ-LAMELA supplied fake Argentine documents to MIKHAILOV and AVERIN. On Christmas Day 1994, MARTINEZ-LAMELA and his daughter and proxy, Marcela MARTINEZ, went to a ski resort in Austria together with Tofik AZIMOV, his partner Vladimir KOSHEL and Sergey MIKHAILOV. AZIMOV forwarded the payment to MARTINESO-LAMELA 10 times through Atkom Consulting accounts .456
(1) MARTINEZ-LAMELA and Jose Felix MARTINEZ-LAMELA, b. May 7, 1935, who led the criminal community, can be one and the same person. This community has established companies that bought real estate in Argentina to launder drug smuggling proceeds. They used fake Argentinean identification documents to settle in the country. MARTINEZ-LAMELA was arrested in Buenos Aires on December 10, 1998 .457
Leonid ORLOV
Russia
(see also the chapter on the business of Solntsevskaya)
Leonid ORLOV, genus June 2, 1953, director of the S.V. Holding, Russian passport 43 No. 4807178.461 ORLOV was a member of Solntsevskaya and belonged to a highly trusted elite; specialized in working with finance. He is one of the Solntsevskaya treasurers along with FERRONSKY. 462 He managed a number of commercial enterprises and received a salary of 15 thousand dollars a month. At the end of 1995, ORLOV was suspected of robbing the organization. MIKHAILOV also took from him $ 50,000 in cash, as well as ORLOV's apartment and two cars.
II-Lawyers:
Alexander Gofshtein
è Alexander Mikhailovich GOFSTEIN, kind. November 1, 1962, the owner of the law office. He is a member of Solntsevskaya and works only for this organization. His father Mikhail GOFSTEIN, kind. On April 19, 1923 he is / was vice-president of the International Union of Lawyers. He is not a member of Solntsevskaya, but through his son he came in contact with Mikhailov and Averin. 464
Vladimir KIZYAKOVSKY
Russia
(see also the chapter on the activities of the commercial Solntsevskaya)
è Vladimir KIZYAKOVSKY worked as a Solntsevskaya lawyer in Moscow. According to reports, he coordinated money laundering and other risky ventures for the organization. Mikhailov and Averin daily talked with Kizyakovsky on a cell phone. Kizyakovsky's line was checked every two days to prevent monitoring. 465 He is a member of Solntsevskaya and one of MIKHAILOV's lawyers. 466 In the past, he collaborated with law enforcement agencies, but he testified against the police in favor of MIKHAILOV. 467
Sergey PONOMARENKO
Russia
Sergei PONOMARENKO was a "court adviser", the main charge d'affaires of Solntsevskaya. He solved all legal problems, gave advice, etc. 468
Sergey POGRAMKOV
Russia
è Sergey POGRAMKOV, or Sergey PAGRONIKOV, or Sergey Alexandrovich PROGRAMKOV, sort. On November 11, 1953, a Russian citizen was MIKHAILOV's personal attorney (He was MIKHAILOV's lawyer in 1989.) 469 He is the director of the Femida Law Office in Moscow. He is responsible for organizing the legal defense of the organization's leaders (MIKHAILOVA, AVERINA, TAMMA, etc.) and works with the most important cases. He is one of the main figures in the "Solntsevskaya" Security Group. 470 He oversaw the companies owned by Solntsevskaya. MIKHAILOV forced one of the suspects of the "Russian Romance" to illegally obtain Israeli citizenship for PAGONIKOV and others. PROGRAMKOV was checked during a meeting of leaders of organized crime in Prague in 1995. 471
Nadezhda ZABARINA
Russia
Nadezhda ZABARINA is a lawyer on economic issues and a member of Solntsevskaya. She is also a co-founder of the Participation Fund. 473
Other
Gennady MIRONOV and Sergey BULAEV are lawyers working for the team of Gennady SHAPOVALOV. 474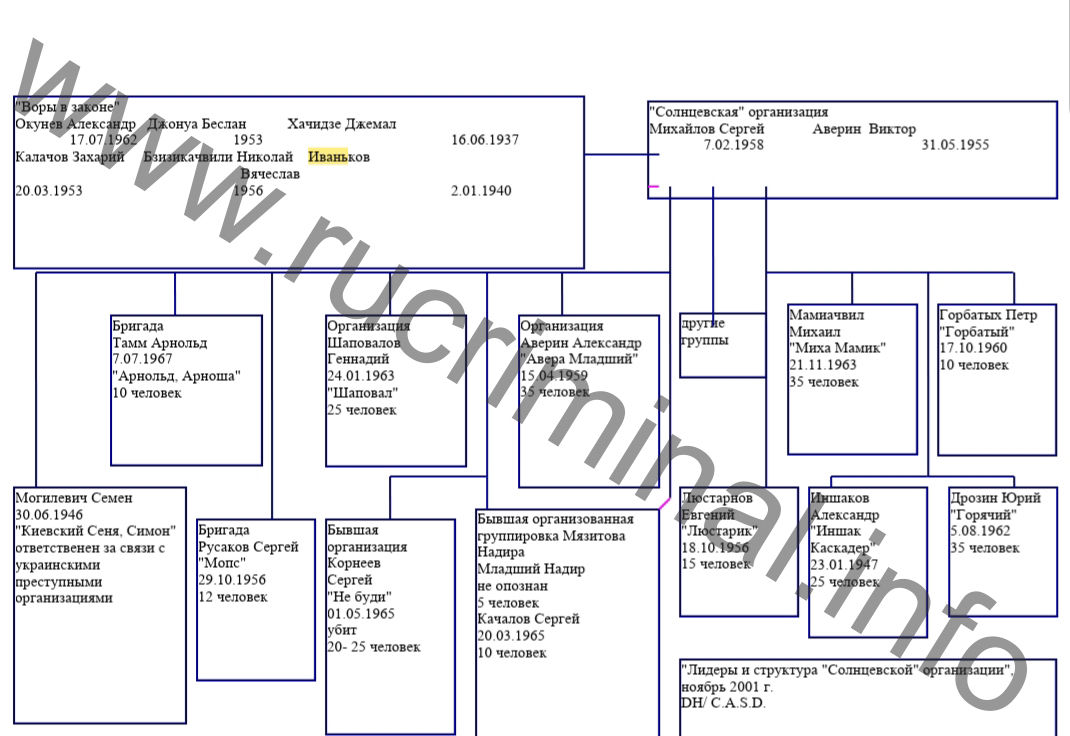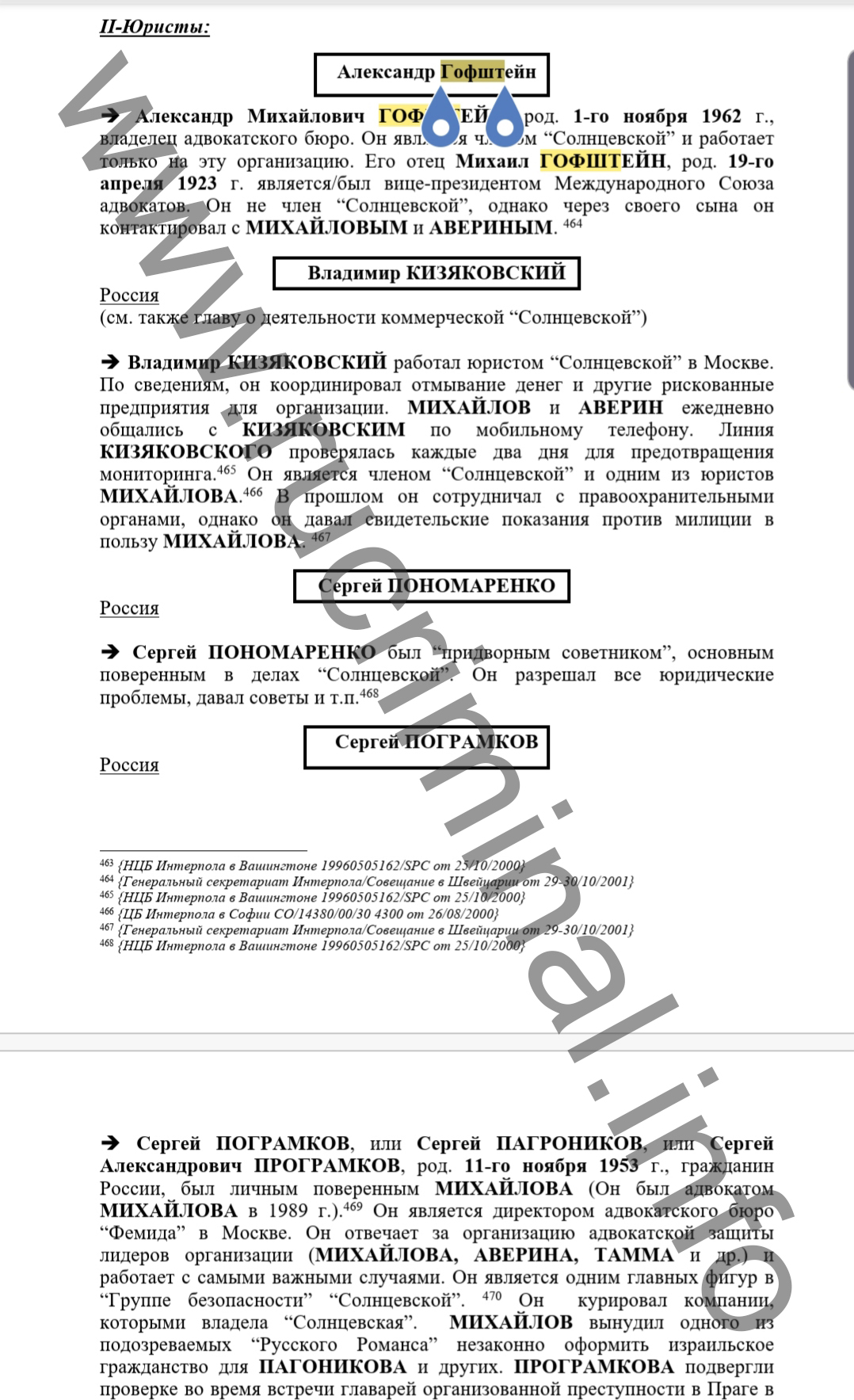 To be continued
Alexey Ermakov
Source: www.rucriminal.info