Source: www.rucriminal.info
rucriminal.info continues to explore the activities of co-owners and top managers of Sovcombank. In previous publications, we talked in detail about the adventures of the predpravleniya bank Dmitry Gusev. In particular, he, along with his business family partners - Emmanuil Izrailevich Bondarovsky and Gai Zakirovich Sobolev - was involved in a story with strange manipulation of the land in the Tver region and not paying a large sum to the regional budget. After that readers of rucriminal.info sent a lot of interesting documents about the activities of this trio in the Tver region and in Khimki, in particular, stories with seizures of large land allotments. Now the editorial board is studying them and will publish the results of the investigation in the near future. Meanwhile, we turned our attention to other participants of Sovcombank. They turned out to be no less interesting characters than Dmitry Gusev.
One of the founding fathers of Sovcombank is a businessman Vasily Vasilyevich Klyukin. It was he, along with his friends in the dark business in the banking sector and under the guidance of an experienced businessman Nikolai Zhuravlev, bought a small Buykombank in the Kostroma region, which later became Sovcombank. The younger Vasily Mikhail took part in the project. However, sources rucriminal.info told that the main thing in this "bunch" was the elder brother, Vasily. It is not surprising that he became one of the official co-owners of Sovcombank (sometimes his package reached almost 20%), whereas Mikhail had just held various responsible posts in the bank for the time being. Vasily Klyukin was responsible for "tasty" credit institution projects related to real estate. In particular, he, like the entire Sovcombank, worked closely and credited the structures of Sergei Polonsky, Pavel Fuchs, etc. With Fuchs, Klyukin and his partners in Sovcombank became especially friends. Pavel and his brother Roman were at one time co-owners of this bank and did not lose contact with him until now. Also Sovcombank and Fuchs together successfully "worked" with the assets of Polonsky. With the participation of Sovcombank from Polonsky, part of the Federation Tower and the Literaturnaya Gazeta facility left. Just here for these "projects" with real estate and answered Vasily Klyukin.
In 2010-2011 it was announced that Vasily allegedly withdraws from Sovcombank. However, simultaneously from the top managers in the shareholders passed his brother Mikhail Klyukin. As rucriminal.info suggests, there simply happened a family shift of "assets" from one pocket to another. It should be noted that Vasily Klyukvin remained co-founder of the Future Now Fund, created by the main shareholders of Sovcombank, including the current senator Nikolai Zhuravlev. Why did Basil need it? The fact is that Vasily Klyukin was tired of hiding all his attachments, which are worthless for the co-owner of a large credit institution.
rucriminal.info already told about secret predilections predpravleniya and co-owner of Sovkombank Dmitry Gusev. In 2016, he was detained by the police for playing poker in an underground casino on the 58th floor of one of Moscow-City towers (we recall that one of the casino towers is partially controlled by Klyukin). Vasily Klyukin, officially leaving Sovcombank, became a professional poker player. Moreover, in large tournaments he does not represent Russia, but Monaco. It was in this Kingdom that the alleged former co-owner of Sovcombank settled down and became its resident. In Monaco, Vasily Klukin literally littered millions of euros. That he buys for 1.2 million euros a flight into space; then announces the beginning of construction for tens of millions of euros in the form of a swan; then gets a portrait of Marilyn Monroe by Andy Warhol. It is clear that this behavior of a representative of the Klyukins family, which owns a large stake in Sovcombank, is surprising. However, this story is already well known. The campaign for Vasily Klukin in Monaco is former Chairman of the Board of Investtorgbank Vladimir Gudkov and former co-owner of Vneshprombank Georgy Bedzhamov. Both too long litter in the kingdom of money. Then, as in Russia, Gudkov is accused of stealing 7 billion of the bank's funds, and Behamov's - 115 billion. But the bankers who invested huge sums in Monaco, the Kingdom refused to extradite Russia.
If the Cranins prefer Monaco, a number of other bank shareholders like Latvia more. As found out rucriminal.info, in particular, the co-owner of Sovcombank Alexei Fisun has a long-time partner Evgeny Georgievich Varov. Together they owned and own a whole group of structures: Alternativa LLC, RIMO OP LLC, North Pipeline Company, Vegaline LLC, etc. Their main asset is Polishelk OJSC, which owns a large building in Moscow. When "Polishelk" was a successful enterprise with a large number of employees. This went on until the shareholders of Sovcombank entered it. As a result, the company's employees were thrown out onto the street, and the building was turned into a huge business center.
Received funds from their activities, Fisun and Varov prefer to invest in Latvia. In particular, Varov is the owner of the largest dairy plant in Latvia Valmieras piens.
Another shareholder of Sovcombank - Natalia Goncharova - also resides permanently in Riga.
As can be seen from the survey material about the co-owners of Sovcombank, they did not invent the "bicycle". They pump money in Russia, but send them to countries that do not give out almost 100 percent to the Russian Federation to either Monaco or Latvia. Later, rucriminal.info will tell in more detail about the aspects of the activities of Sovcombank shareholders.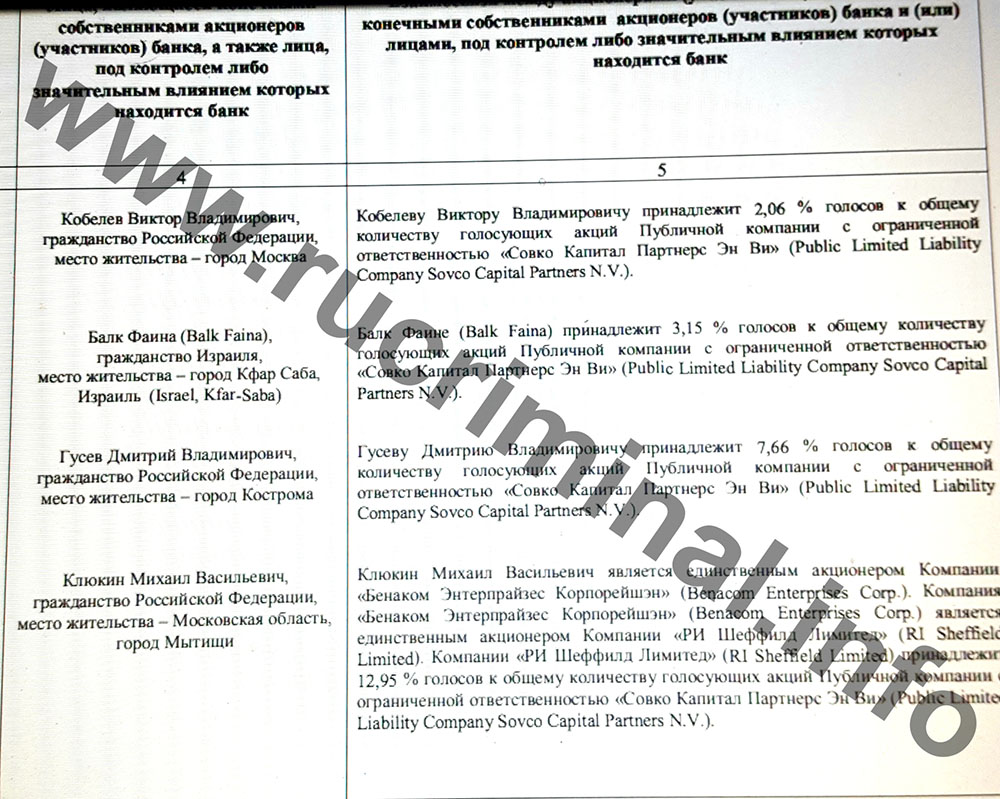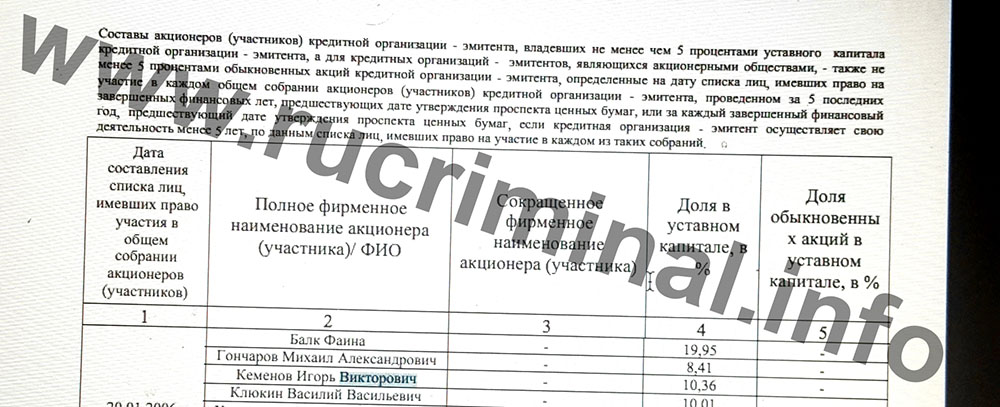 To be continued
Yaroslav Mukhtarov
Source: www.rucriminal.info