Source: www.rucriminal.info
This month, the Moscow Regional Court may finally select a jury to consider the case of the gang of Konstantin Piskarev (Kostya Bolshoi), which has committed dozens of murders. Almost all members of the organized criminal group, with the exception of Kostya himself, ended up behind bars and began to cooperate with the investigation. A member of the group Sergey Bezrukov, who took part in the most resonant murders of the gang, including the mayor of Sergiev Posad, Moscow Region, Yevgeny Dushko, spoke in particular about everything.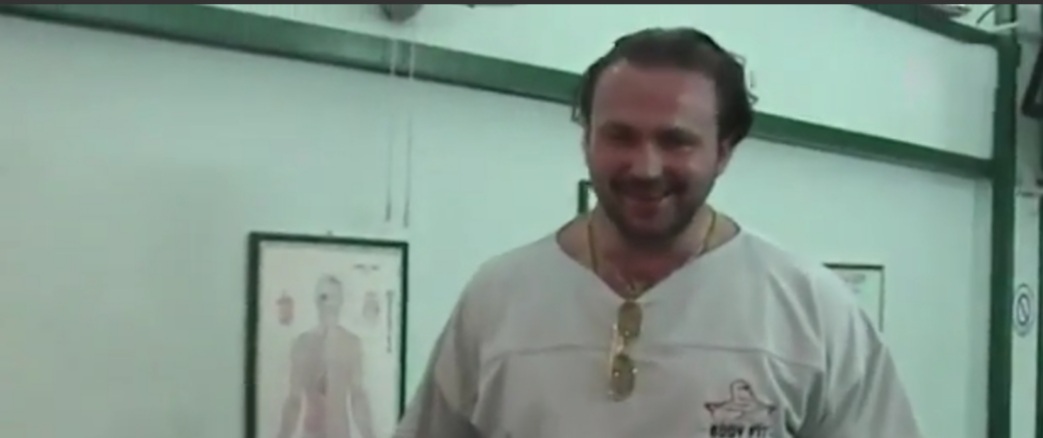 In the process of escorting Bezrukov and Piskarev, the operatives managed to record the following dialogue between them: Piskarev in the conversation found out whether investigative actions were carried out, confrontations, what he knew about the position of other accomplices, reproached Bezrukov S.Yu. for his position during the investigation and the conclusion of a pre-trial agreement: "Well, why are you talking about what they do not say, why did you tell them?"; "Why didn't you fight? What did you turn on the back? That they would give you a tag that way, that they would give you a tag that way ". In particular, Piskarev was interested in the testimony of S.Yu. Bezrukov. about the murder of Maslov and the participation of Kapkov and Stolyarov in this: "Why are you burdening yourself, damn it? I saw Damir for the last time in general in 2011 already ".
And now rucriminal.info cites Bezrukov's testimony:
"Together with Piskarev, his fighters, including Sergei Barabashkin, appeared before the Servants of Themis. The latter headed the "wing" of an organized criminal group called "Barabashki". Denis Zemtsov, who was close to Kostya Bolshoi, testified against him. If Piskarev categorically denies guilt, then Zemtsov confesses and concluded a pre-trial agreement. Because of this, during the investigative actions between Piskarev and Zemtsov, such a dialogue took place, which was recorded by the operatives.
Testimony of S.Yu. Bezrukov as a suspect and accused, according to which he met Makarov Alexei while still at school. After serving in the armed forces, Bezrukov received an offer from Makarov to go to work for Piskarev. Bezrukov agreed, and Makarov and Mishin vouched for him. He understood that the brigade was engaged in criminal activities. Makarov, Mishin were asked if he was ready to kill a person. Bezrukov replied in the negative, said that they should not count on him in this.
When applying for a job, Bezrukov still did not know what exactly he would do. Best of all, Bezrukov communicated with Makarov, Balayan and Mishin. The fact that Piskarev is a criminal authority, Bezrukov realized later.
Piskarev, according to Berukov, was very purposeful, adequate and balanced, did not use drugs, used alcohol in moderation, loved money. Bezrukov did not communicate closely with Piskarev, kept a distance with him. Bezrukov began to be involved in the work after the unknown disappearance of Makarov.
At first, Bezrukov worked as a driver, was engaged in spying on people, secretly filming them. He has been carrying out orders since 2003, for 3-4 years, every month Bezrukov received a salary from Mishin, first about 18 thousand rubles, then 25 thousand rubles each.
Even after 2 years, Piskarev began to pay extra to Bezrukov every month, 7 thousand rubles out of 15 th. rubles, which Mishin brought monthly after his trips to the Kuntsevo market. Then Mishin began to pay the same 7 thousand rubles to Bezrukov. Since 2012, Bezrukov began to receive an additional 40 thousand rubles from Piskarev. Of the members of the gang, Bezrukov was familiar with Stolyarov and Zemyatin. Zemtsov, Lupichev, Saryan, Aleksandrov and the Yurov brothers. The gang, led by Piskarev, committed a large number of murders, of which Bezrukov knows only a few murders, in which he was entrusted with surveillance. The reasons for the murders were not known to Bezrukov, he did not have information about the personalities of those killed. Bezrukov admitted his participation in the gang in the attempts on the life of Shurukhin and Pankin, the murders of Filin, Maslov, Mugash and Dushko, illegal storage of weapons, ammunition, explosives and explosive devices.
Bezrukov came to the gang at the same time together with Andrey Stolyarov, nicknamed Gloomy. This was around 2003. Stolyarov was brought into the gang by Zemtsov or Aleksandrov, who, like Stolyarov, was from Tver. Bezrukov and Stolyarov were considered "young", so they were not assigned serious tasks, they were mainly engaged in surveillance, once Bezrukov, at the direction of Piskarev, together with other members of the gang - Stolyarov, Aleksandrov and Lupichev - took part in the arson of a country house.
First, Bezrukov received assignments from Mishin, then directly from Piskarev. Mishin himself showed Bezrukov the objects of surveillance, and they went with him to the addresses where they made surveillance, and Mishin told how to do it correctly. Before Mishin Bezrukov reported on the work done. The role of Stolyarov in Piskarev's gang was the same as that of Bezrukov: he carried out surveillance of people at the direction of Piskarev, and could also receive such instructions from Aleksandrov or Zemtsov. Bezrukov Usually, together with Stolyarov, at the direction of Piskarev, he repeatedly carried out surveillance of people with whom Piskarev met at various business or criminal meetings.
In 2005-2006, at the direction of Piskarev, Bezrukov, together with Stolyarov and Saryan, went to offices located in the Taganka and Boulevard Ring area. From these offices they were taken out packages of cash, several million rubles each, which Bezrukov, Stolyarov and Saryan transported to Burevestik and gave to Piskarev. Piskarev had an office in the area of ​​Prospect Mira, where there were trois and other expensive interior items.
Piskarev ran his business together with a man named Zhora (according to the investigation, Pirtskhalava). Also in 2003-2005 Piskarev had a cafe "Shield and Sword". In addition, Stolyarov could receive instructions on the transportation and storage of firearms that were intended to commit crimes.
Around 2006-2007, Bezrukov, at the request of Aleksandrov and Lupichev, arrived at the Burevestnik, where he saw that Aleksandrov and Lupichev were cleaning Kalashnikov assault rifles. They asked Bezrukov if he knew how to clean the machine. Bezrukov answered in the affirmative and cleaned one machine gun. Further, these machines in the amount of about 4 pieces were put into a sports bag and loaded into the trunk of Bezrukov's car, and then, together with Aleksandrov and Lupichev, they transported the weapon to the Mytishchi district, where they hid it in a garage cooperative. As part of the gang, Bezrukov took part in the attempted murders of Shurukhin and Pankin, the murders of Filin, Maslov, Mugash and Dushko, illegal storage of weapons, ammunition, explosives and explosive devices. "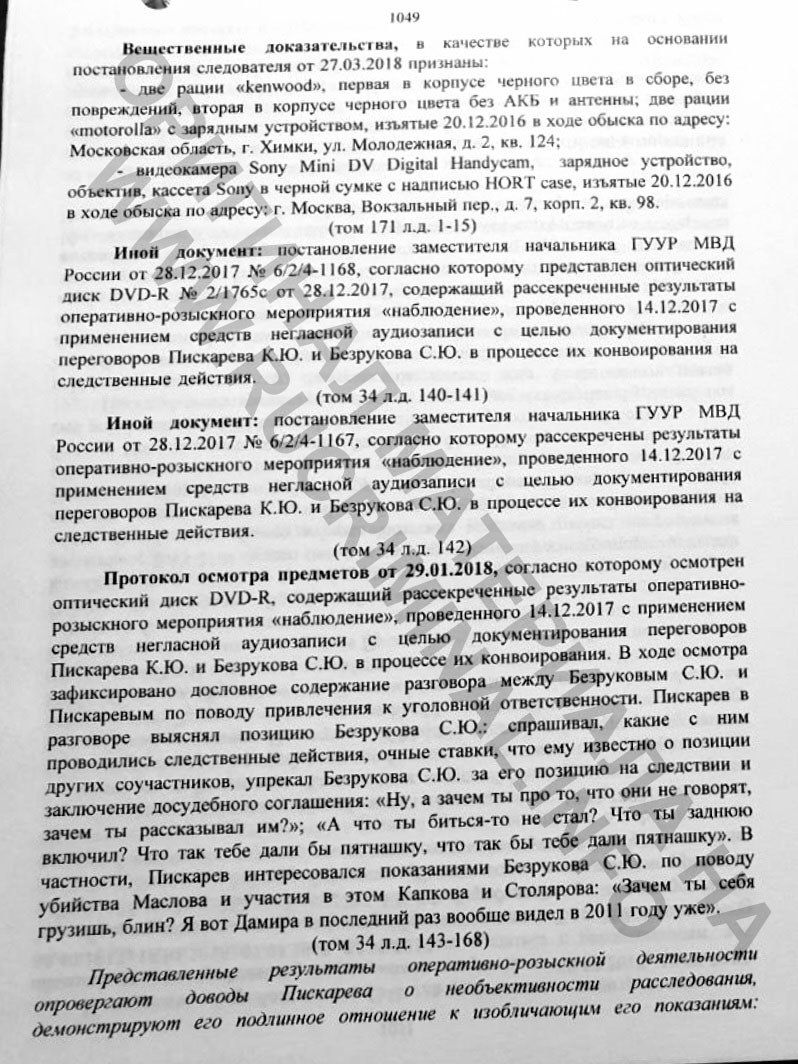 To be continued
Arseny Dronov
Source: www.rucriminal.info