Source: www.rucriminal.info
The Southern District Military Court has begun consideration of the criminal case of Aslan Gagiev (Dzhako), accused of organizing a criminal community, creating three gangs, five contract killings and illegal arms trafficking. According to the telegram channel VChK-OGPU, the indictment was read out at the first meeting. Gagiev pleaded not guilty. The wife of one of those killed by gang members was also questioned. "Tell me at least one motive why I needed to kill all these people? I may be a villain, but not to that extent. You imprisoned the innocent, and everyone who is really involved is walking because they have money and authority. I am I agree to confess all my sins, but carry out the investigation normally, change the investigation team, "Gagiev said at the hearing.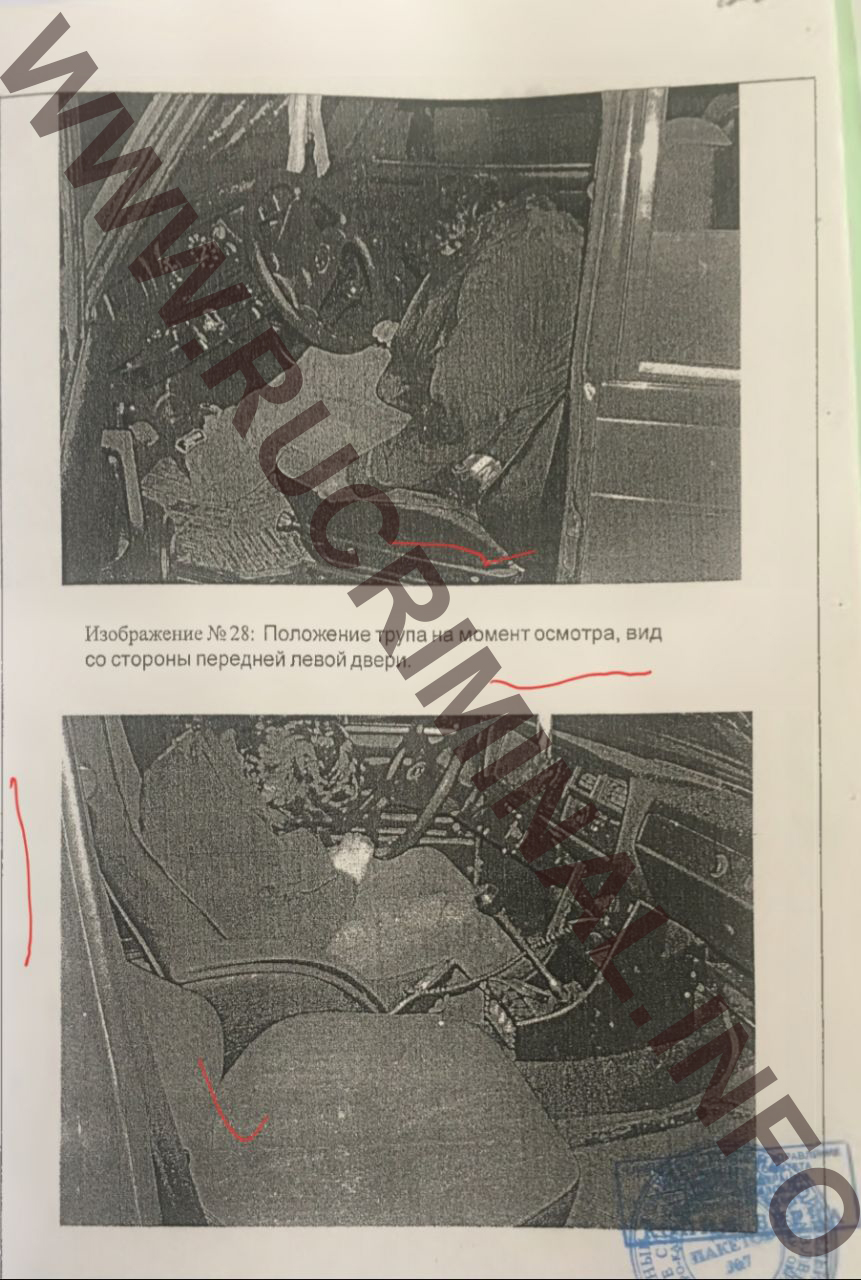 According to the investigation, in 2004, Gagiev created a criminal community on the territory of the city of Moscow, the Moscow region and the Republic of North Ossetia-Alania, which included at least 50 people.
In 2012-2013, at the direction of Aslan Gagiev, on the territory of the Republic of North Ossetia-Alania, members of these gangs committed the murders of Taimur Kadzaev, Valery Laliev, Alan Torchinov, Aslan Torchinov, Albeg Playev and Oleg Oziev (at the time of the murder, he was the Deputy Prosecutor of the Industrial District of the city Vladikavkaz). These episodes are now being considered by the court. In total, as a result of 49 episodes of criminal activity on the territory of Moscow, the Moscow region and the Republic of North Ossetia-Alania, community members killed 60 people, including law enforcement officers, officials of the republican and city levels, businessmen and others.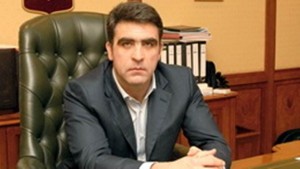 The materials of the "Jaco case" contain a lot of interesting things and rucriminal.info has told and will talk about it. For example, interesting facts "emerge" from the episode with the murder of the St. Petersburg "authority" Sergei Onoprienko and his driver Kirill Nikolaev. The fire was led by militants from the organized criminal group of Aslan Gagiev (Dzhako). Nikolaev died on the spot, and Onopriyenko was taken to the hospital. According to the telegram channel VChK-OGPU, from the ambulance car (this is recorded) he began to call the deputy director of the FLC Nail Malyutin and shout: "Why did you order me?" Onoprienko died on the hospital table. He was an extremely colorful character. Onoprienko was friends with the main guard of St. Petersburg, Roman Tsepov (poisoned in 2004), collaborated with Peter's "godfather" Gennady Petrov. Petrov was Malyutin's senior partner, comrade and cover. During telephone conversations, they calmly discussed meetings and negotiations with Anatoly Serdyukov, Igor Sechin, etc. It is known that before the murder, Onoprienko had disagreements with Petrov and Malyutin. The latter "ordered" Jaco. They had a conflict with Onoprienko. The latter was engaged in oil transactions, found a bank that helped Malyutin launder money. When they had financial disagreements, Malyutin simply ordered Onoprienko. And he never answered for the crime. He served only for embezzlement of FLC funds and went abroad.
The case file says that the best friend of the authority Onopriyenko was ... the current chairman of the Babushkinsky court of Moscow, Yevgeny Komissarov. At the time of interrogation in the case, he worked as an assistant to the chairman of the Moscow District Military Court. Moreover, with Onoprienko he was clearly connected not only by friendship, but, apparently, by business issues. At least to the question of the investigator who knew all the details of the conflict with Malyutin, Onopriyenko's widow confidently pointed to Komissarov.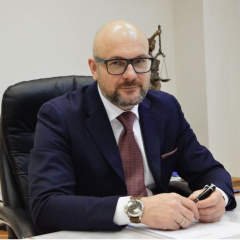 Rucriminal.info publishes the testimony of Valentina Onoprienko: "In recent years, Sergey's work has been associated with the sale of oil. He worked at SevZapNefteKhim LLC as an executive director, and recently dealt with the supply of oil products from Cheretsovets to St. Petersburg. He often went on business trips to the city of Cherepovets, which lasted from 2 to 3 days. Ella Nikolaevna Dmitrieva was the general director of SevZapNefteKhim LLC. I saw her several times. Dmitrieva E.N. is a rather domineering woman, cunning. Sergei had a conflict with her, due to the fact that she paid Sergei less than it was agreed. Sergei, in turn, "stole" her clients.
In May 2006, to our home at the address Moscow, st. Lavochkina, 48, unknown people arrived in the amount of 4 people. As I understood it was the roof of E.N. Dmitrieva. At that time I was in St. Petersburg for a session. My mother and my children were at home. One of the men rang the doorbell and asked to call Sergei, my mother, without opening the door, said that Sergei and I were not at home. Then they asked me to convey that they were from St. Petersburg, that Sergei owed them money for 10 years, and also asked to convey " Greetings from Shutov. " After that, they went out into the street and walked along the house and examined the windows of the apartment. At that time, my daughter looked out the window. When they saw her, they called mom back on the phone and asked her who it was, to which her mother replied that uhthen the children of Sergei, and she is the nanny. The men asked again to transmit what they said through the door. After that, my mother called back Sergey Likhachev's brother Igor Olegovich, and conveyed everything that had happened. A little later, Sergei called back his mother explained everything to him, he calmed her down and said that he knew approximately who it was. When I returned from St. Petersburg, Sergei and I had a conversation on this topic. He told me that these people came from Ella Nikolaevna because of the above-described conflict. He also said that nothing threatened me and the children, and added that "it is easier for them (the" roof "of E. N. Dmitrieva) to remove him (Sergey) himself than to harm someone close to him.
He changed, began to park his car in a different place and walk in a bulletproof vest, began to rent an apartment for himself. but where exactly I do not know (but in the Northern District of Moscow, about 10-15 minutes walk from the house), in which I sometimes stayed overnight. We never returned to this topic. Also recently, Sergei became interested in psychology and began to develop trainings in psychology. I am not aware of any other commercial projects of Sergey.
Investigator's question: Do you know the social circle of S.V. Onoprienko?
The victim's answer: He communicated very well with his brother Igor, Komissarov Evgeny Valerievich, who is an assistant to the chairman of the Moscow District Military Court (press secretary), with whom he studied together. In general, Sergei has many acquaintances with whom he communicated.
Investigator's question: What conflicts did S.V. Onoprienko have over the past two years?
The victim's answer: Conflicts, of which I only know about SevzapnefteKhim LLC, which I described above, as well as a conflict with Malyutin Nail Anvarovich, because of the money that he had to pay Sergei (I do not know the exact amount, but Sergei said that there is enough for an apartment). As far as I know, this debt was formed due to financial transactions through the bank, which I found for Malyutin. Sergey. When he talked about Malyutin, he constantly mentioned the abbreviation "exercise therapy", but what this means I do not know. Recently, Sergei expressed his intention to meet with N.A. Malyutin.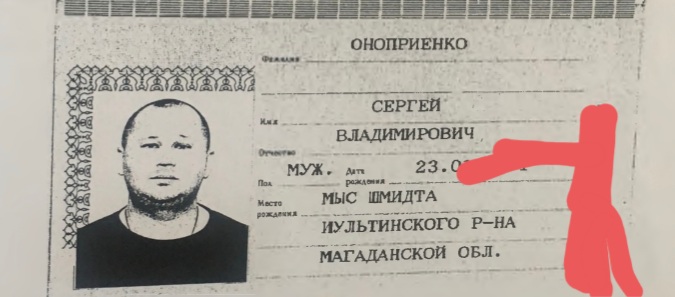 Investigator's question: What do you know about the relationship of S.V. Onoprienko? with Ella Nikolaevna Dmitrieva, Shutov Sergey Vladimirovich and Malyutin Naill Anvaravich?
The victim's answer: Initially, relations with all the listed persons were businesslike, even friendly, but due to financial problems they developed into conflict. Shutova S.V. I have never seen, but I know that he is the "roof" of Dmitrieva E.N., several times Sergei settled conflicts between her and Shutov S. In general, Sergei did not like to talk about this topic.
Investigator's question: Who else can know about conflict situations S.V. Onoprienko?
The victim's answer: I think that Igor Olegovich Likhachev and EV Komissarov
Investigator's question: Received by S.V. Onoprienko. any threats?
The victim's answer: Only those I mentioned above.
Investigator's question: Who told you about the murder of S.V. Onoprienko?
The victim's answer: I learned about it from Igor Likhachev, who told me on the same day. that Sergei was shot, that he was alive and that he was being taken to the hospital. At that moment I was at home.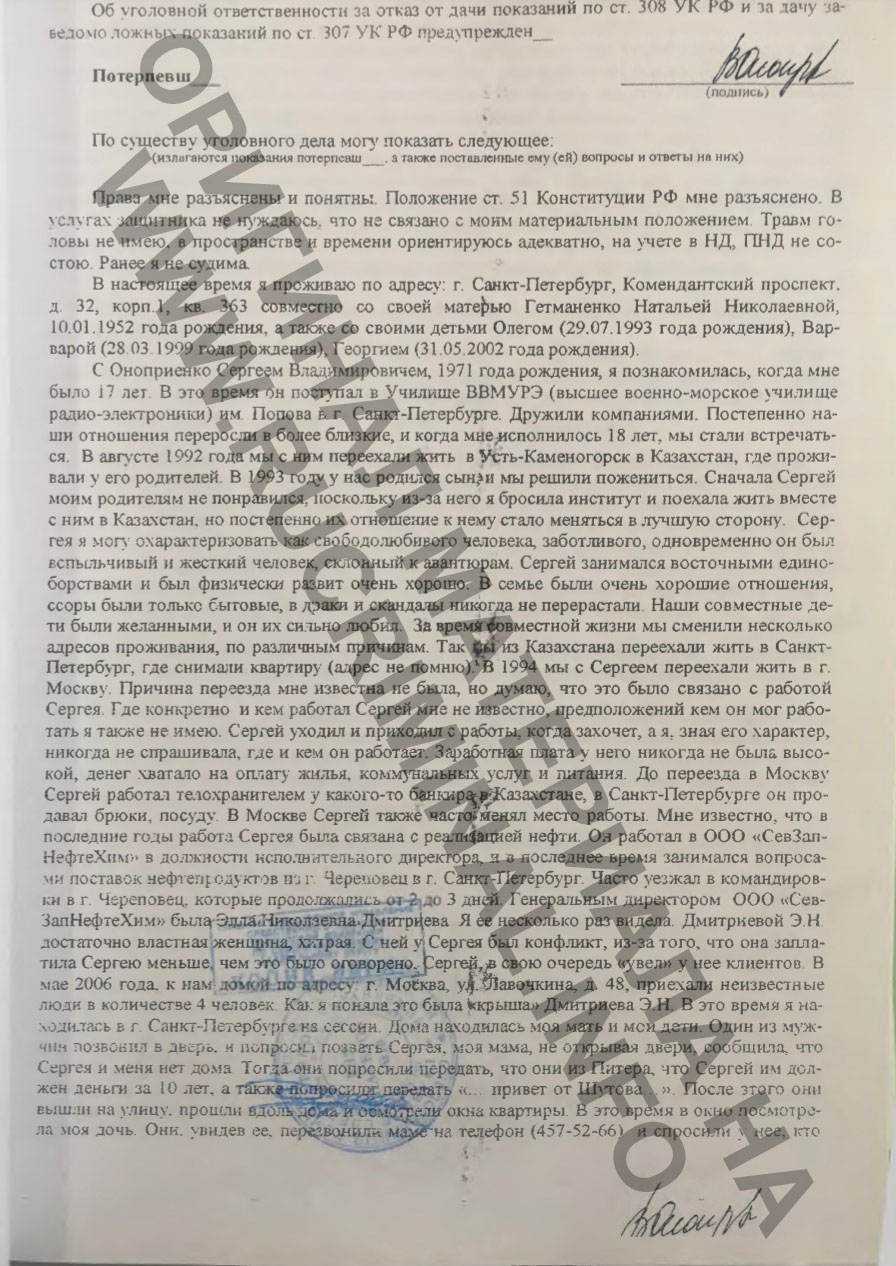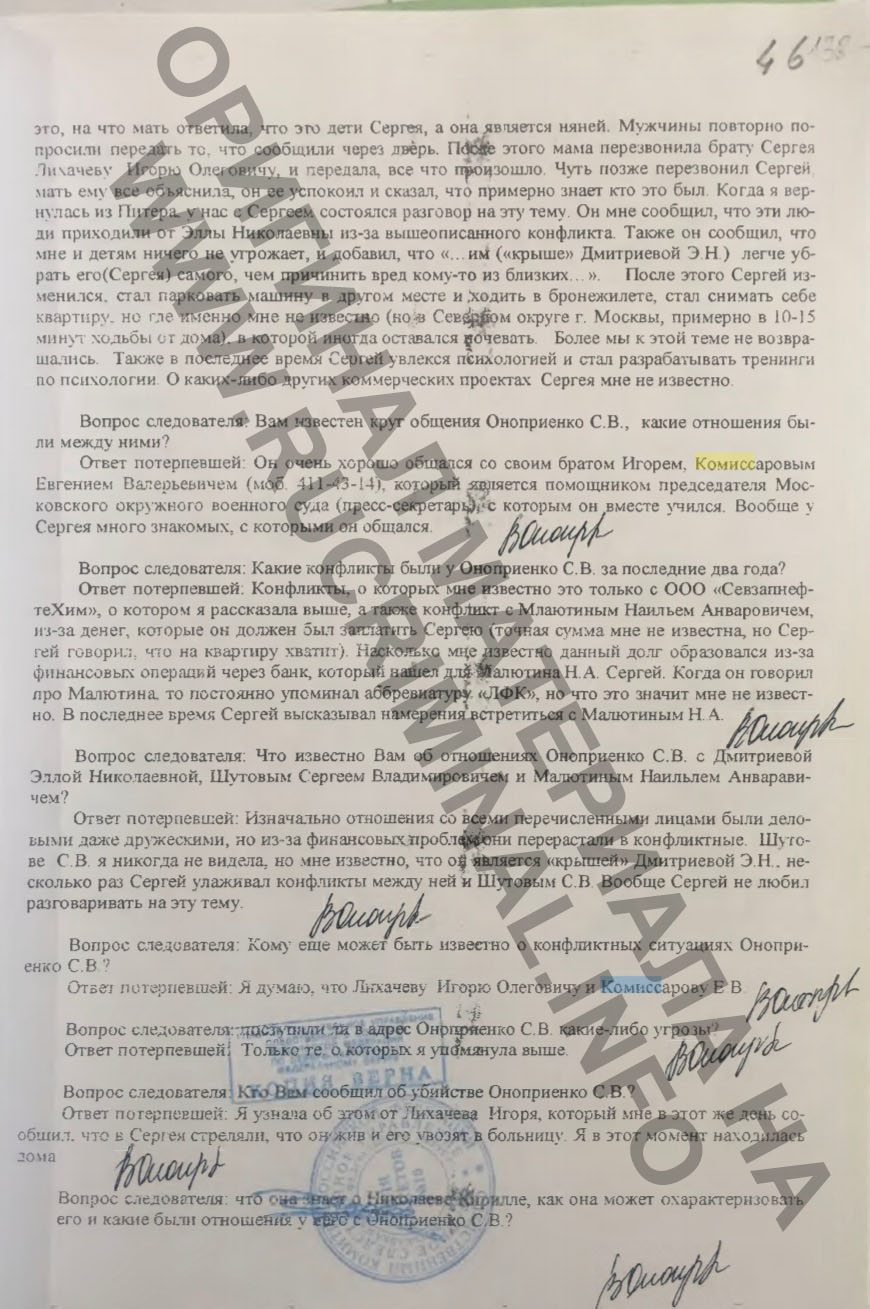 To be continued
Arseny Dronov
Source: www.rucriminal.info