Source: www.rucriminal.info
Rucriminal.info continues to analyze the archive of the Spanish special services, which carefully recorded the negotiations and actions of dubious Russians who have chosen the resorts of the Kingdom. They were primarily interested in the "godfather" of St. Petersburg Gennady Petrov and his entourage. We finished the last publication on the transcript of this conversation between Petrov and his "right hand" Leonid Khristoforov. Here it is: 15:25:42 in a conversation between Leonid Khristoforov and Gennady Petrov, the latter reports that Kumarin-Barsukov was detained by order of the tsar (according to the Civil Guard, we can talk about Vladimir Putin).
The record of the preliminary investigation of the Spanish court in the case of the Russian mafia, which was published by the telegram channel "Infobomb", contains a detailed dossier on Khristoforov. He is also quoted by Rucriminal.info.
Leonid Khristoforov, an important figure in the Petrov group, with whom he maintains a very close relationship, both on a personal and professional level. On February 28, 2008, the Petrovs made a trip from St. Petersburg to Mallorca on a private plane, accompanied by Mr. Leonid Khristoforov and his wife Ekaterina Vadimovna Vdovina, who have a common son, Petrov's godson. Khristoforov not only maintains a close relationship with Petrov, but is also embedded in the group's business structure: decisions on investments and solutions to emerging problems are made by him at joint meetings.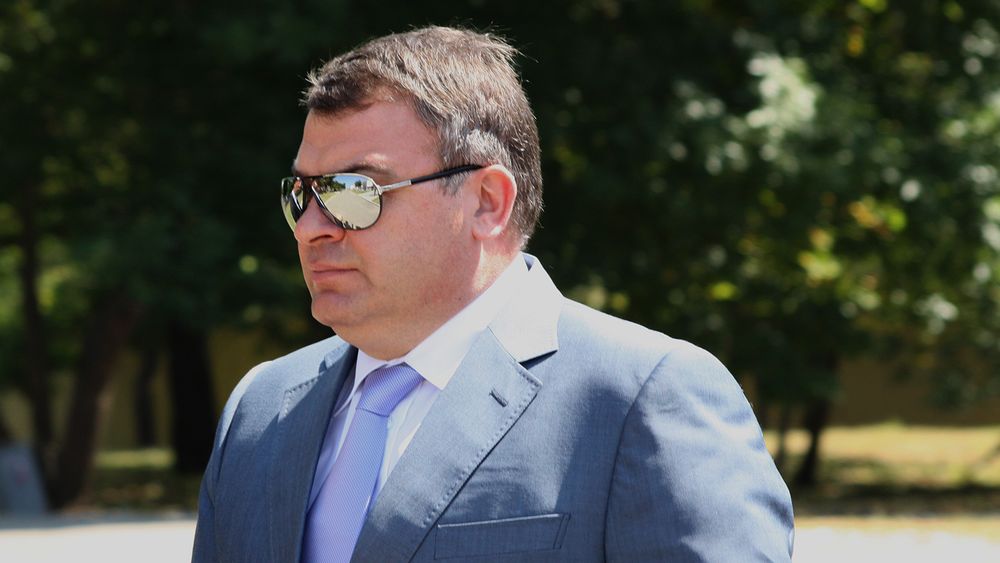 They resort to the help of General Nikolai Aulov to resolve issues in the highest administrative instances of Russia. In Russia, Mr. Leonid Khristoforov, like Petrov, has guards, or escorts, at his disposal. It clearly follows from his relationship with Mr. Gennadios Petrov that the latter is the leader of the organization. Thus, Leonid received orders from Petrov to meet once a week with one of the police representatives in order to obtain all the information related to him that this authority had. In addition to interacting with Petrov, Mr. Leonid Khristoforov is in contact with Mr. Alexander Ivanovich Malyshev and Mr. Vladimir Kumarin / Barsukov.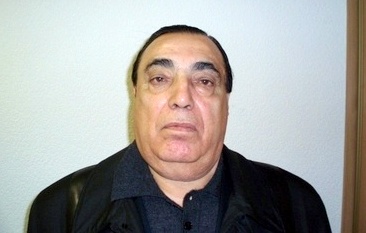 Regarding the latter, Khristoforov speaks of him as Petrov's "senior comrade". Mr. Ilya Traber is also a member of the accused's social circle. After the arrest of Kumarin, the head of the Vyborg organized criminal group made an attempt to establish control over the PTK company; a money laundering case was brought against him. Other well-known crime bosses with whom Khristoforov actively maintains contact: Aslan Usoyan (Ded Khasan, Grandfather), Andrei "Mirich", "thief in law", with him, as well as with Aslan Usoyan, Anatoly Serdyukov, Nikolai Nikolaevich Aulov and Yuri Krest Mr. Leonid Khristoforov met in Moscow. With the latter, Mr. Leonid Khristoforov runs Petrov's business. which is associated with marine fuel transportation. In connection with the above, it is clear that Leonid Khristoforov is an active member of Petrov's criminal group and maintains stable and frequent contacts with him in Spain. He participates both in the execution of the latter's orders, as well as helps in making decisions, and with other criminals is a representative at meetings with authorities, about which Petrova keeps abreast.
Khristoforov, in addition to his belonging to a criminal community, also rotated on the market for the proceeds of criminal activity, using Spanish companies for this, through which he transferred funds in the amount of more than 400,000 euros to Spain and acquired real estate worth more than 1.9 million euros despite the lack of income necessary for the purchase.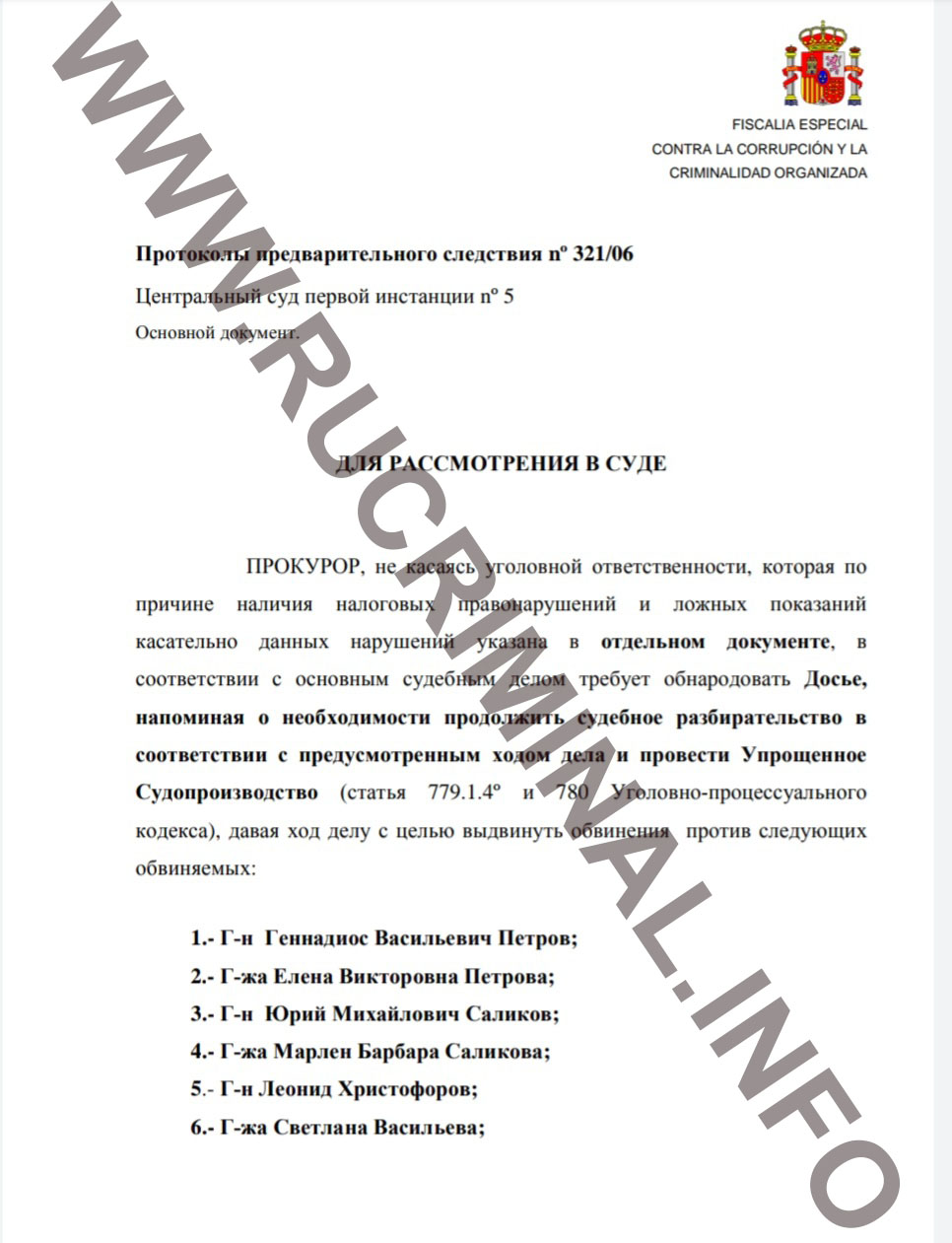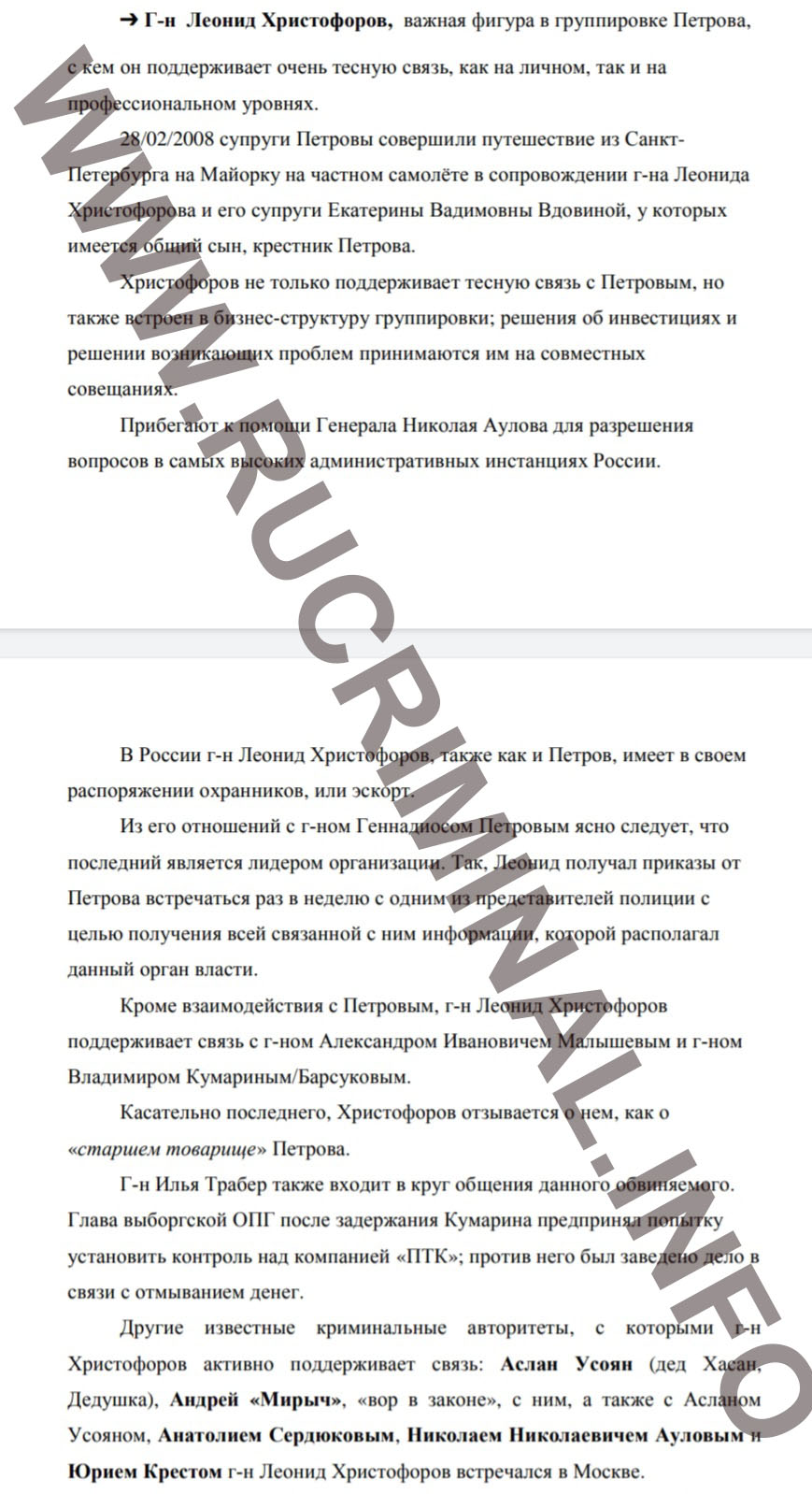 To be continued
Alexey Ermakov
Source: www.rucriminal.info