2019-03-20 22:47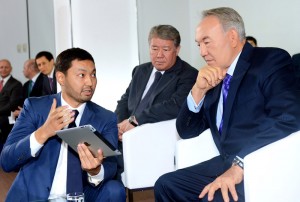 Dossier
Имя : Kenes
Фамилия : Rakishev
Отчество : Hamitovich
Должность : Chairman of the Board of Directors of Kazkommertsbank JSC
Source: www.rucriminal.info
The President of Kazakhstan Nursultan Nazarbayev has resigned. It is clear that the power in the country, he will not let go of himself, but in theory it is now time to check your pension Fund. Its formation, as the formation of foreign assets of Nazarbayev's son-in-law Timur Kulibayev, was engaged in businessman Kenes Rakishev. He did it very badly, what rucriminal.info recently described in detail in several publications. The problem is that mainly international adventurers agree to cooperate with Rakishev.
Decided Rakishev once again with" success "to invest and then on his way met" fun "campaign: a specialist in the withdrawal of funds in the" tax havens "Jay Johnston, his" right hand " Francesco Piovanetti and Amateur racing on Ferrari Mike Zoe. They" vparili " Rakishev share in the company Net Element, he immediately announced his next successful investment. In fact, it turned out that Net Element is collected from a variety of Internet resources, including the site of actor Kaan and a music service with the content of Igor Krutoy. All of the Internet company, Net Element has failed. The company's stock price was plummeting. To somehow get out, Rakishev decided to buy and attach to the Net Element credit card processor manufacturer Unified Payments, which belonged to Oleg Firer. The latter liked Rakishev so much that he made him the CEO of Net Element.
As found out Rucriminal.info, in fact, firer was the son of immigrants from Odessa, who was all in debt and in the courts because of the past bad business. He took out loans to open a chain of stores selling pornographic publications. Thanks to the deal with Rakishev and a new job, firer not only paid off his debts, but also moved to a brand new Bentley.
And the share price of Net Element continued to fall.
To somehow justify to Nazarbayev and Kulibayev, Rakishev began to cooperate with, as it seemed to him, the "monsters" of American business – the leaders of Platinum Partners Murray Huberfeld and mark Nordlicht. Kenes even organized Nordlicht visit with all honors to Kazakhstan, where the representative of Platinum Partners met with Kulibayev and discussed the possibility of investing Kazakh funds. And soon in the US Huberfeld and Nordlicht were arrested. Huberfeld-on charges of bribing a Union head to put pension money in Platinum, Nordlicht was charged with trying to carry out billions of dollars worth of fraud.
Why do serious banks and entrepreneurs do not cooperate with Rakishev? It becomes clear from the correspondence of the businessman, which was leaked and is available Rucriminal.info. That his box was hacked at the trial in the US, under oath and confirmed himself Rakishev.
When things at Net Element became absolutely bad (and the company generated losses from year to year), Rakishev ordered to take the credit from IFC - division of the world Bank. On November 20, 2013, Net Element top Manager Tim Greenfield wrote the following letter to IFC representative Kai Martin:
"Kai, Oleg and I (firer-Ed.) it was a pleasure to meet you and your team and look forward to continuing the dialogue. Please find below the link to the presentation we gave. We are finalizing a financial model that we will share with you soon."
The answer from Kai Marina comes only through six days. And he's disappointing.:
«Tim,
Thank you for your visit and presentation. We are pleased to learn about your business and believe that this is an interesting opportunity.
Unfortunately, your investor from Kazakhstan manages the money of the President's family and we cannot invest with them (because of our mandate). I am sure they are the best investor in their part of the world, but we are not allowed to invest with people with political risks.
We're still interested in discussing the possibility of doing something with SafetyPay, if that interests you too. Sorry there's no better news.
Kai»
Tim Greenfield immediately sends this letter to Oleg firer, and He sends it to Rakishev and accompanies such a message:
"Hi, Kenes. I have worked with the world Bank on credit and net investments, after doing the verification they emailed me their response this morning, please let me know if their findings are correct so I can act accordingly."
Rakishev in its response to the Firer very terse: "What does it mean?".
Firer, as follows from the document, which turned out to be Rucriminal.info, begins to justify himself: "I have no idea , just told you that the world Bank says that you are associated with the President of Kazakhstan through the management of his money. if that's true, that's fine, I want to go back to them and either agree or disagree and say that's not true."
On the subject of obtaining a loan from the world Bank came to naught. Because what Kai Martin wrote is absolutely true.
And it becomes clear why serious businessmen and banks do not want to cooperate with Rakishev. First, it's not his money. Secondly, it is dangerous to work with Nazarbayev's funds. He can stop being President (which is what happened) and then there will be serious financial risks. Even worse is that the money at any time can be declared "dirty" and illegally withdrawn from Kazakhstan.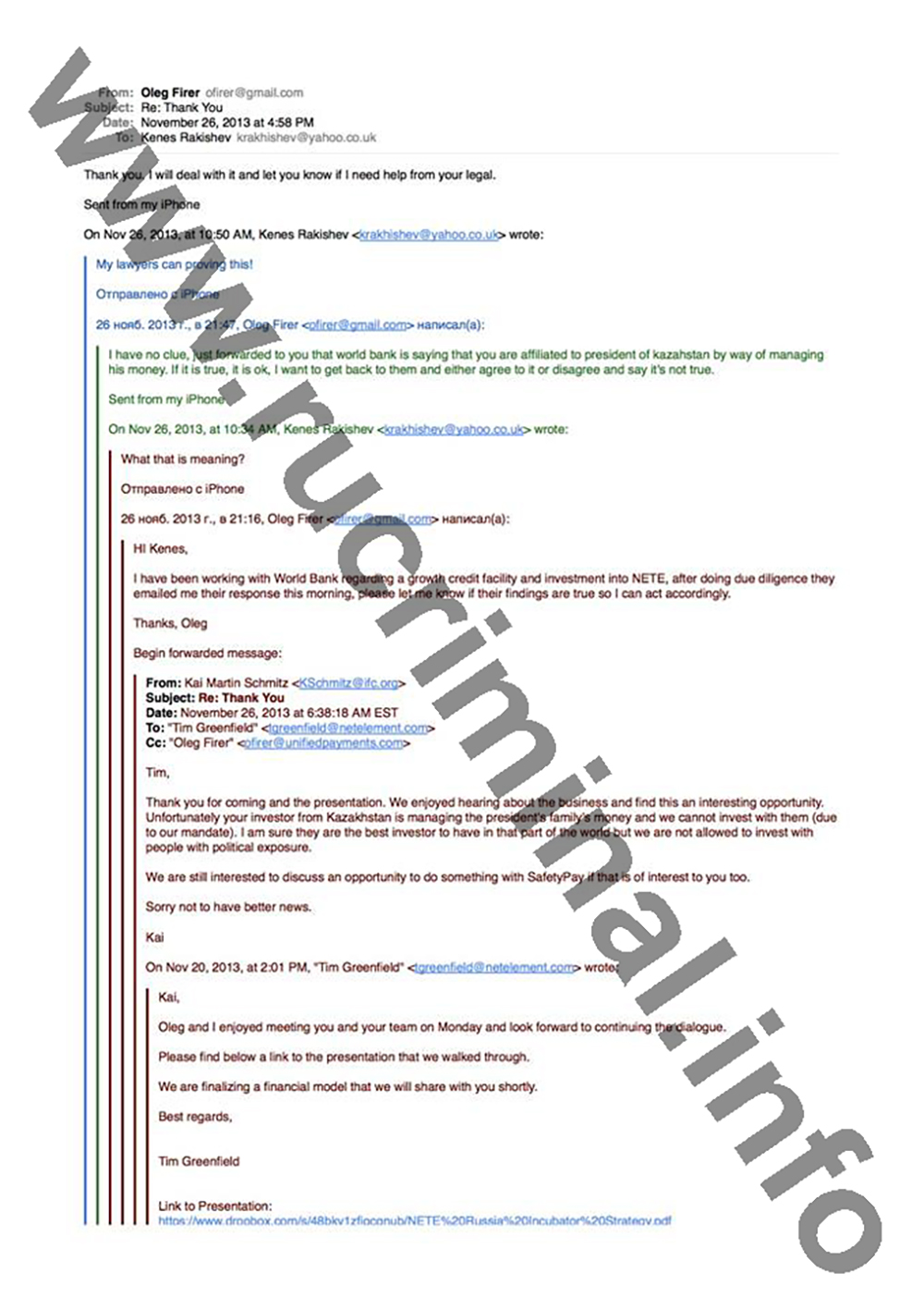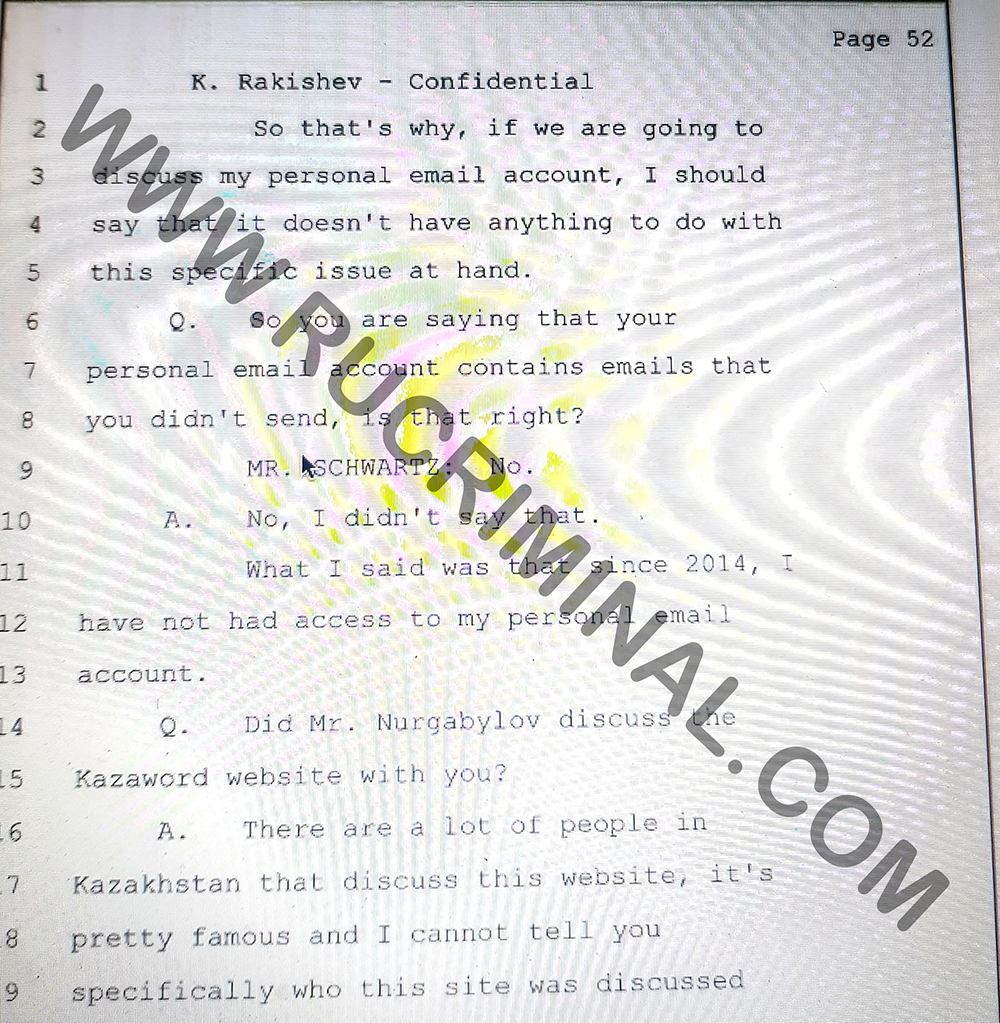 To be continued
Timothy Zabiyakin
Source: www.rucriminal.info