Source: www.rucriminal.info
Rucriminal.info he continues to tell readers about Kazakh oligarch Kenes Rakishev, who is considered a personal investor of Nursultan Nazarbayev, his son-in-law Timur Kulibayev and other representatives of the "top" of Kazakhstan. On this occasion he came to the U.S. in a very се5рьезные trouble. Large canadian Internet entrepreneur Adam Perzow sued California sued for $ 50 million to Rakishev and his partner Moshe Hagege and Joseph Chen. Person of three businessmen accused of massive fraud and multiple violations of us law.
Rakishev does not spare funds for your PR so the media can see ogromnae the number of publications about successful venture capital investor from Kazakhstan. And so the articles about his joint company with Hogu SIRIN LABS and released her blockchain smartphone Finney and all was clogged the entire Internet. It seemed that some unique product like Iphone appeared on the market.
But all admiration and raptures were only in paid articles. But, as analysts have described the "creation" Kenes Rakishev: : "SIRIN LABS. Take an elegant handset that looks like a brick, wrap it in lies, hype and technical nonsense, rate it at $ 16,666 and get a Sirin Lab ICO. They called it crowdfunding, we call it fraud. None of this ICO shows us a genuine project worthy of the $ 80 million contributed at the time of creation. All we see is a wrong idea, a misrepresentation of products and services and a 95% loss of value... "
And the words of analysts were fully confirmed by further events. As found out Rucriminal.info, against Hogeg, his Kazakh partner and managing partner of Singulariteam Kenes Rakishev and Chinese-American Manager at Singulariteam Joseph Chen filed a $ 50 million lawsuit in a California court.
The applicant is canadian Internet entrepreneur Adam Perzov, who sold the domain invest.com Hogeg and Rakishev at the end of 2014 for $ 5 million. Perzov claims that Hogeg and Rakishev violated a joint venture agreement in which he was promised that he would be a partner and Manager in a company that would use the domain invest.com ahhh!
The statement of claim also States that Hogeg and Rakishev took part in an organized conspiracy involving at least 16 people and companies. The lawsuit accuses Hogeg and Rakishev of defrauding many investors around the world for hundreds of millions of dollars. Perzov claims that Hogeg and Rakishev violated the RICO law, a us Federal law designed for organized crime in the US. There are six points in the statement of claim: breach of contract, breach of loyalty obligation, inability to pay properly, fraud, violation of the business registration law and violation of the RICO law.
Hearings in the court of California has already started a Rucriminal.info is this claim and other materiai case, in connection with which we begin a new series of publications on the Kenes Rakisheva.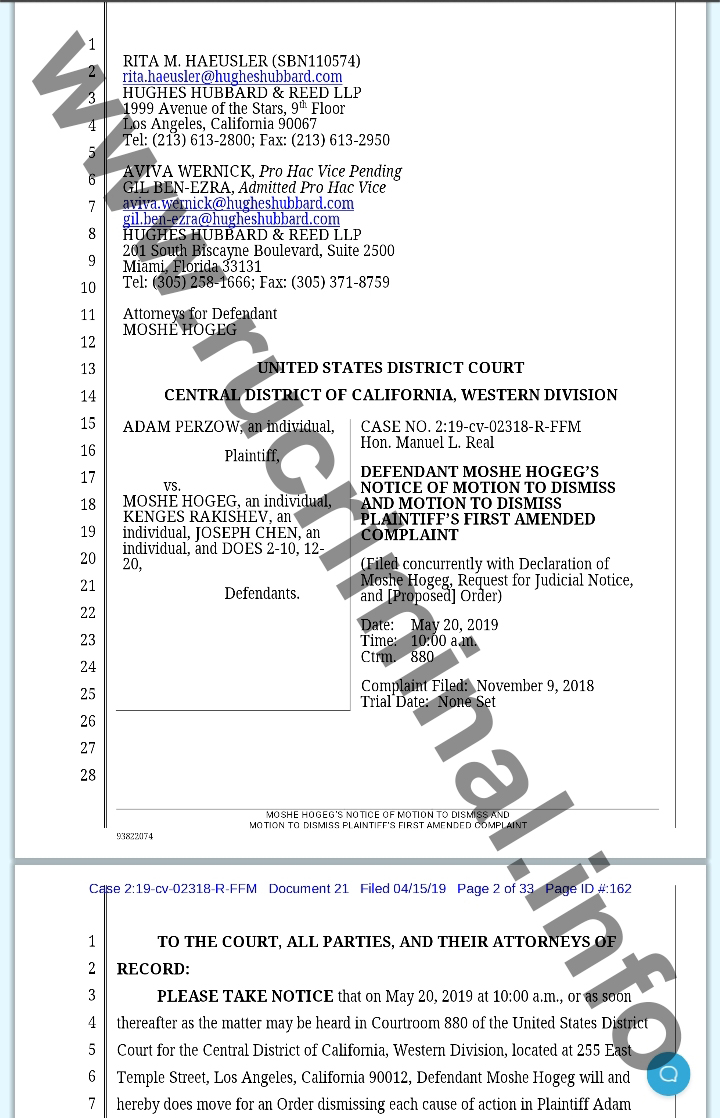 ​
To be continued
Timothy Zabiyakin
Source: www.rucriminal.info