2019-09-23 05:52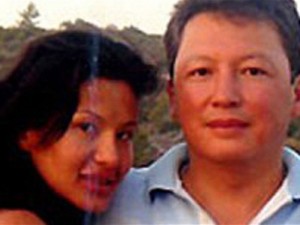 Dossier
Имя : Kenes
Фамилия : Rakishev
Отчество : Hamitovich
Должность : Chairman of the Board of Directors of Kazkommertsbank JSC
Source: www.rucriminal.info
British intelligence MI6 fears that Russia could receive incriminating information about the British prince Andrew because of the scandal surrounding the American financier Jeffrey Epstein, who was accused of sex trafficking by minors this summer. About this newspaper The Times, citing sources in the security services.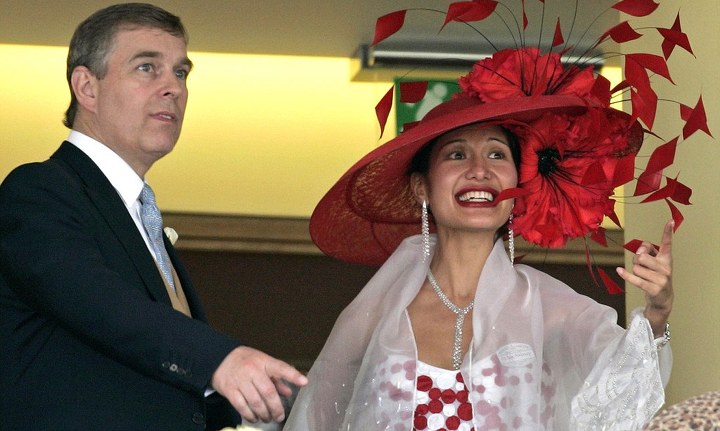 Epstein himself in August, being in custody, committed suicide. One of his victims, Virginia Dzhuffre, in an interview with NBC News the day before, said that Epstein forced her to have sex with a number of influential men, including Prince Andrew.
The fears of British intelligence arose last week and are associated with a former Florida police officer John Dugan, who at one time had access to investigate the case against Epstein, but left the United States in 2009 and moved to Russia.
Sources of Rucriminal.info believe that all the interesting information about Prince Andrew and his predilections in Russia was received from another person - the Kazakh oligarch Kenes Rakishev, who is a confidant of Timur Kulibayev - son-in-law of Nursultan Nazarbayev. Rakishev has long been familiar with the prince and carried out slippery errands for Kulibayev through him. Kulibayev has a long-time common-law wife, mother of two of his children, socialite Goga Ashkenazi. She, in turn, having settled in London, became the friend of Prince Andrew. And in 2008, Knnes Rakishev, with the money allotted to him by Timur Kulibayev, bought from the Prince Andrew for Goga Ashkenazi the estate of Sunninghill Park in Berkshire. Moreover, the price was much higher than the market. Soon, The Daily Mail found out about another "bribe" for Andrew received from Rakishev and Kulibayev. It turned out that a member of the royal family received a reward of £ 4 million for their mediation services in securing a transaction between the Greek plumbing company EYDAP, the Swiss financial firm Aras Capital and the government of Kazakhstan. The subject of the transaction was the construction of a new water supply and sewage system in Almaty and Astana, and the contract value is estimated at 384 million pounds.
Kenes Rakishev and Prince Andrew could often be met together. According to sources of Rucriminal.info, they were also associated with common specific hobbies.
At one time, the correspondence published on the mysterious Kazaword website made a lot of noise. Its creators claimed that the letters were taken from the hacked mail of Rakishev, and Kenes himself and the "pimp number 1" Peter Listerman conduct the dialogue. The latter offers Rakishev and the "elder" (the elder was Timur Kulibayev) for the comfort of various models and simply beauties. Moreover, some girls have not yet reached the age of majority. During interrogation in a US court, while under oath, Rakishev was forced to admit that his mail was hacked and leaked to the Web.
Sources of Rucriminal.info believe that Rakishev and Andrew together preferred to spend leisure time with girls who are not yet 18.
Rakishev is suspicious all over the world, but in Russia he is always a welcome guest. The media talked a lot about Rakishev's extremely close ties with the Russian security forces. And, of course, he, according to Rucriminal.info sources, shared with the security forces and secrets of Prince Andrew. Therefore, addiction, and its pricing, as an intermediary in international affairs, are well known in Russia. From Kenes Rakishev.
By the way, before being questioned in the US, Rakishev obtained an injunction to ask him questions not directly related to the essence of the lawsuit, including about his relationship with Ashkenazy. However, the oligarch was unable to get away from uncomfortable questions to the end. According to documents published by rucriminal.info, the names of Nazarbayev, Kulibayev, Imangale Tasmagambetov (father-in-law of Rakishev, the closest associate of Nazarbayev), Karima Masimova (head of the KNB) sounded in his testimony. Here is an excerpt from them.
Q- Have you ever met with President Nazarbayev?
R. Yes.
Q. How many times?
R. I can't say for sure, but I met him.
Q. Timur Kulibayev is the son-in-law of President Nazarbayev, is that right?
R. This information is also open to the public, everyone knows about it, including myself.
Q. That is, is it correct that Timur Kulibayev is Nazarbayev's son-in-law?
R. Yes.
Q. Have you ever had business with Timur Kulibayev?
R. Yes.
Q. What type of business did you own with Timur Kulibayev?
R. At the moment, I can't tell you the exact types of business in which we were involved, but, of course, we did the business together, and that's right.
Q. Have you ever bought a house with Timur Kulibayev?
R. No
Q. Have you ever bought a property in London for Timur Kulibayev?
R. No.
Here, of course, Rakishev was very deceiving. He bought real estate with Kulibayev's money. But not for the president's son-in-law, but for his civil wife, Gogi Ashkenazi.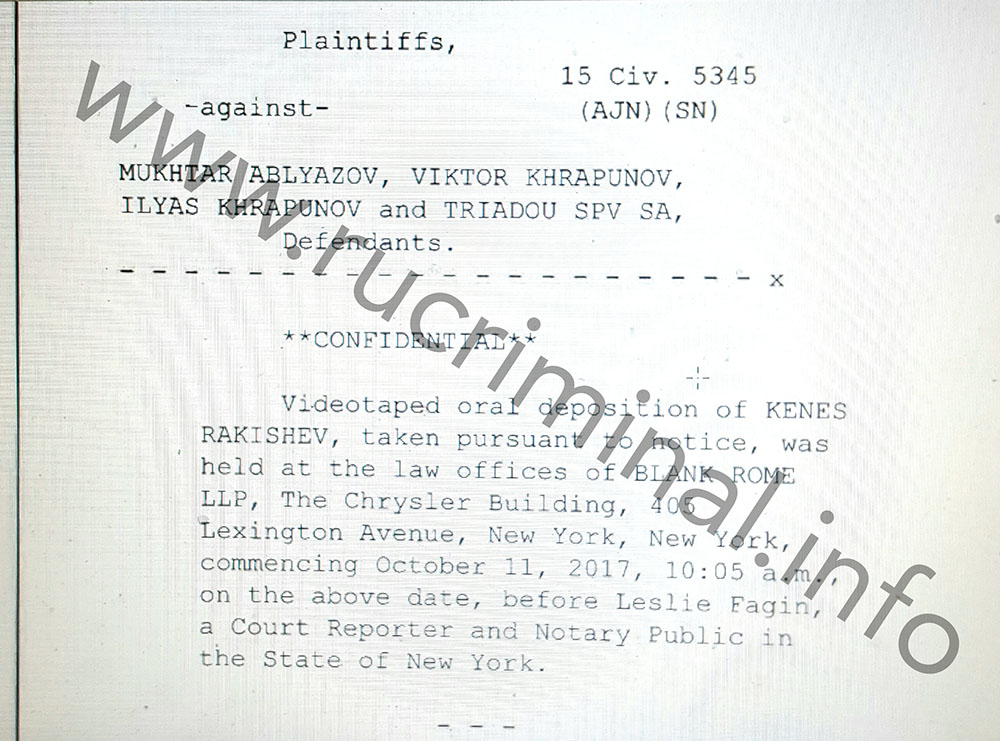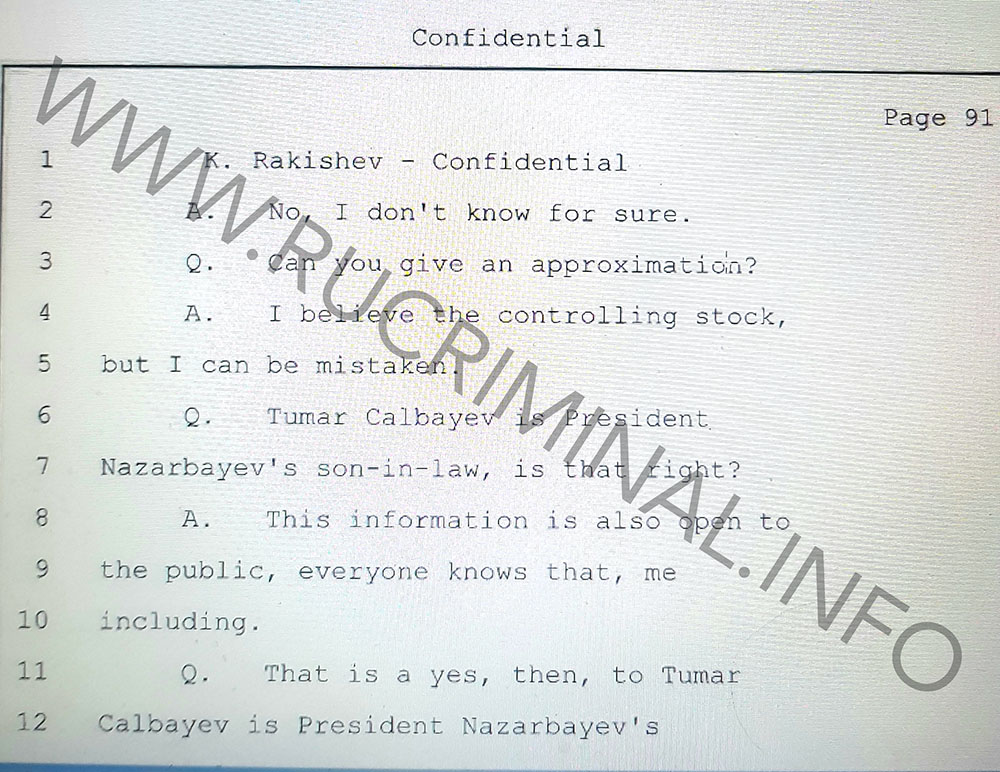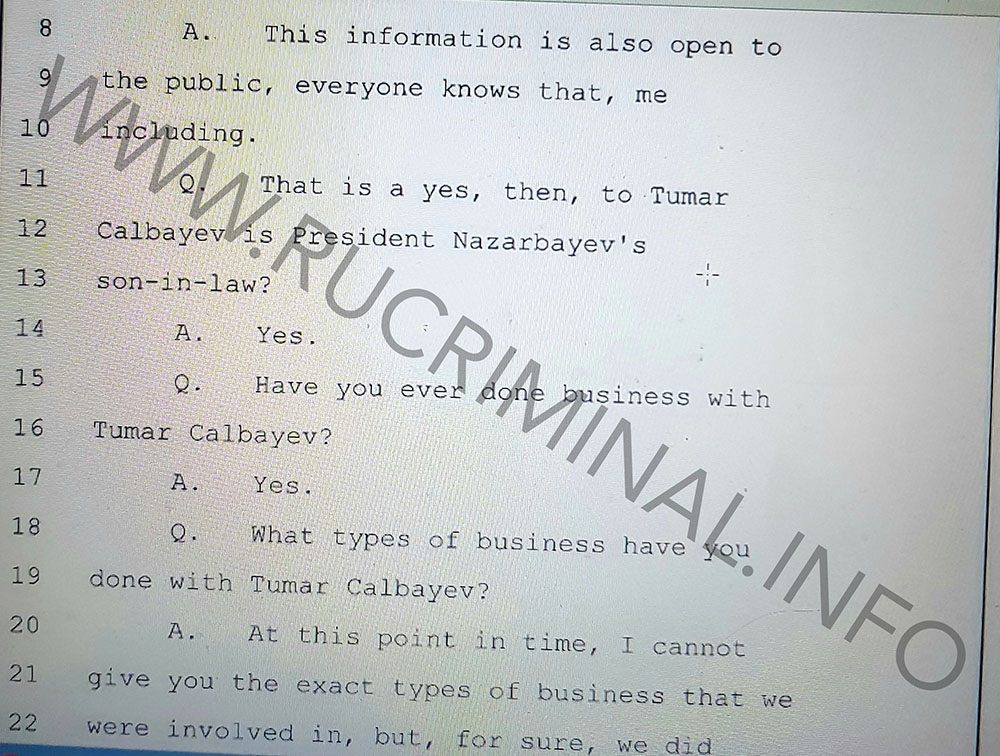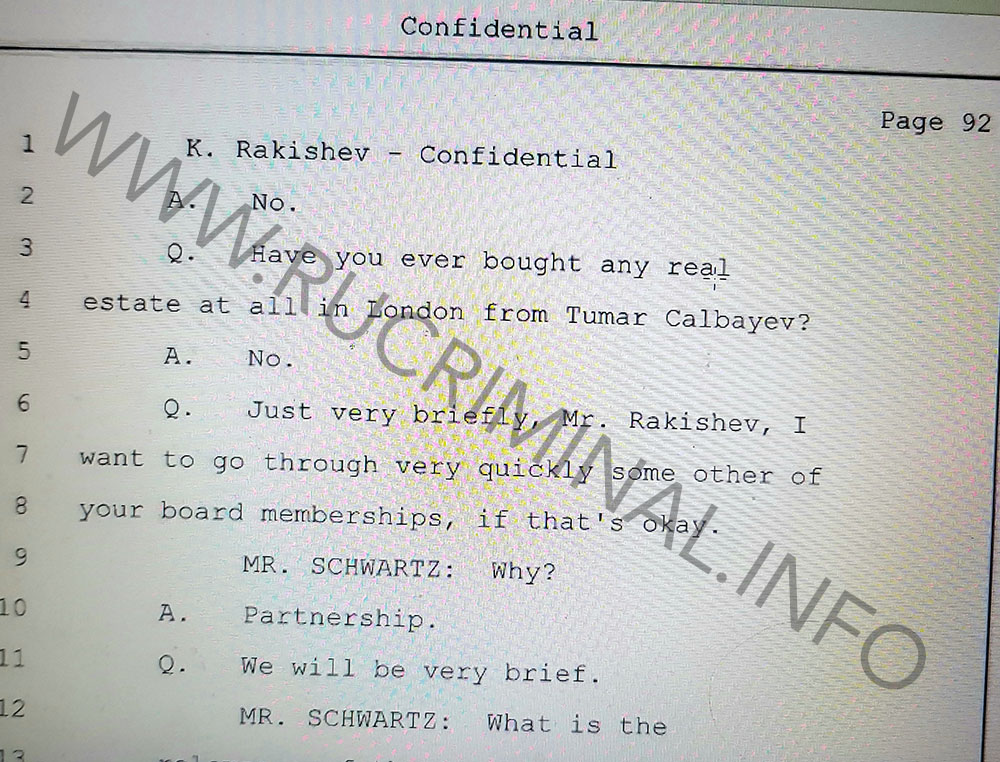 To be continued
Timofei Zabiyakin
Source: www.rucriminal.info