Source: www.rucriminal.info
Almost weekly media in Kazakhstan, Russia, Ukraine, Israel, Europe and even in the US write about the "geniuses" of business, brilliant venture investor Kenes Rakishev. After reading these publications, one might think that this is a new Jimi Breuer or Marc Andreessen. However, according to the documents that are at the disposal of rucriminal.info, every one of the eulogistic articles were simply bought by Rakishev for money. If he had not paid very large sums to publications and journalists, they would not have written a single good word about him at all. The person is absolutely sure that you can buy a reputation.
As already described by rucriminal.info, during the interrogation in the US court, Kenes Rakishev was forced to admit the fact that in 2014 his personal mailbox was under the control of unknown persons. And then the contents of this box, as well as the boxes of a number of his associates, turned on the Internet. Among other things, Kenes corresponded with Daniyar Ashimbaev, known in Kazakhstan as the publisher of the Who's Who in Kazakhstan biographical encyclopedia, and also as an "independent political analyst". In reality, Ashimbaev controls a group of Internet resources that are formally unrelated to each other, which operates under his leadership in the interests of the Kazakh authorities. An integral part of the ruling elite of Kazakhstan is Kenes Rakishev - the son-in-law of Imangali Tasmagambetov, the former prime minister of Kazakhstan and the closest associate of Nursultan Nazarbayev. Rakishev is also a longtime junior business partner of Nazarbayev's son-in-law Timur Kulibayev in many projects. In particular, in such large ones as the acquisition of BTA Bank together with Kazkommertsbank, with subsequent acquisition of the first.
According to rucriminal.info, Daniyar Ashimbaev manages the group, being its main organizer, coordinator and manager. Ashimbaev directly obey his main assistants - managers: NATALYA MALYARCHUK, DZHANIBEK SULEYEV and someone hiding under a nickname, "LUDAN LUDAN". All other journalists are in contact with Daniyar Ashimbaev, both directly and through Janibek Suleyev and "Ludan Ludan". Foreign journalists - exclusively through Ludan Ludan.
This PR group serves the domineering top of Kazakhstan and the same Kenes Rakishev. The latter is in regular contact with Daniyar Ashimbaev, but their relations are more of a partnership, friendly nature. For example, Ashimbaev refers to Rakishev not officially, by name and patronymic, but "brother".
In particular, Ashimbaev is engaged in forming a positive image of Rakishev in the press, including in the foreign one.
So, according to the documents that Rucriminal.info has,
On January 23, 2013, Ashimbaev sent the corrected version of Rakishev's biography in English to the user rittaa. And on January 8, 2013, Ashimbaev sent Rakishev to agree on the text of the publication about him "He came, he saw, he hooked up. Kazakhstan's business is developing new investment areas. "
On February 4, 2013, Ashimbaev sent for approval to Rakishev promotional material in English called "Kenes Rakishev: making it up from mines and forges into cyberspace".
In addition, Ashimbaev is involved in the PR support of Rakishev business structures.
For example, on October 16, 2012, Ashimbaev sent Rakishev his proposals on covering SAT & Company's activities in the Kazakhstan and foreign information space.
On December 6, 2012, Ashimbaev sent Rakishev to agree on the text of the Iron-Man publication in Russian about SAT & Company.
Rakishev regularly pays for the services of Ashimbaev and his group. So, on January 9, 2013, Ashimbaev sent the user "rittaa" to the address "rittaa@mail.ru" to check whether the text of the article in English corresponds to the previously prepared materials. This material, entitled "SATC expands engagement into metallurgy to get back to profit", is a hidden advertisement of SAT & Company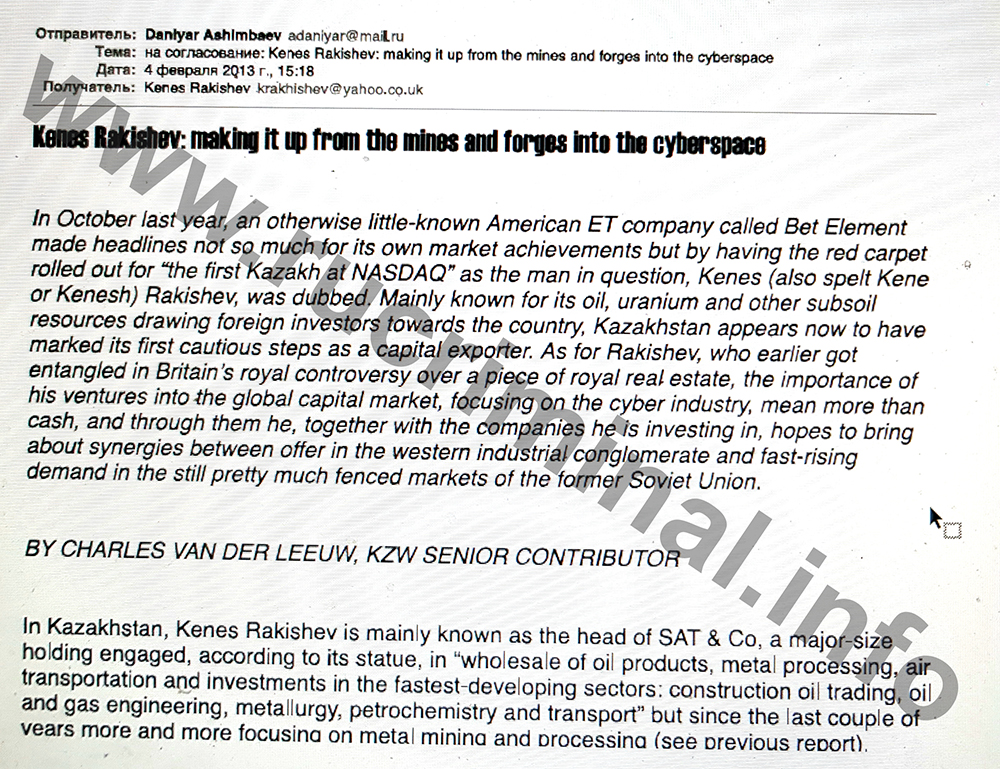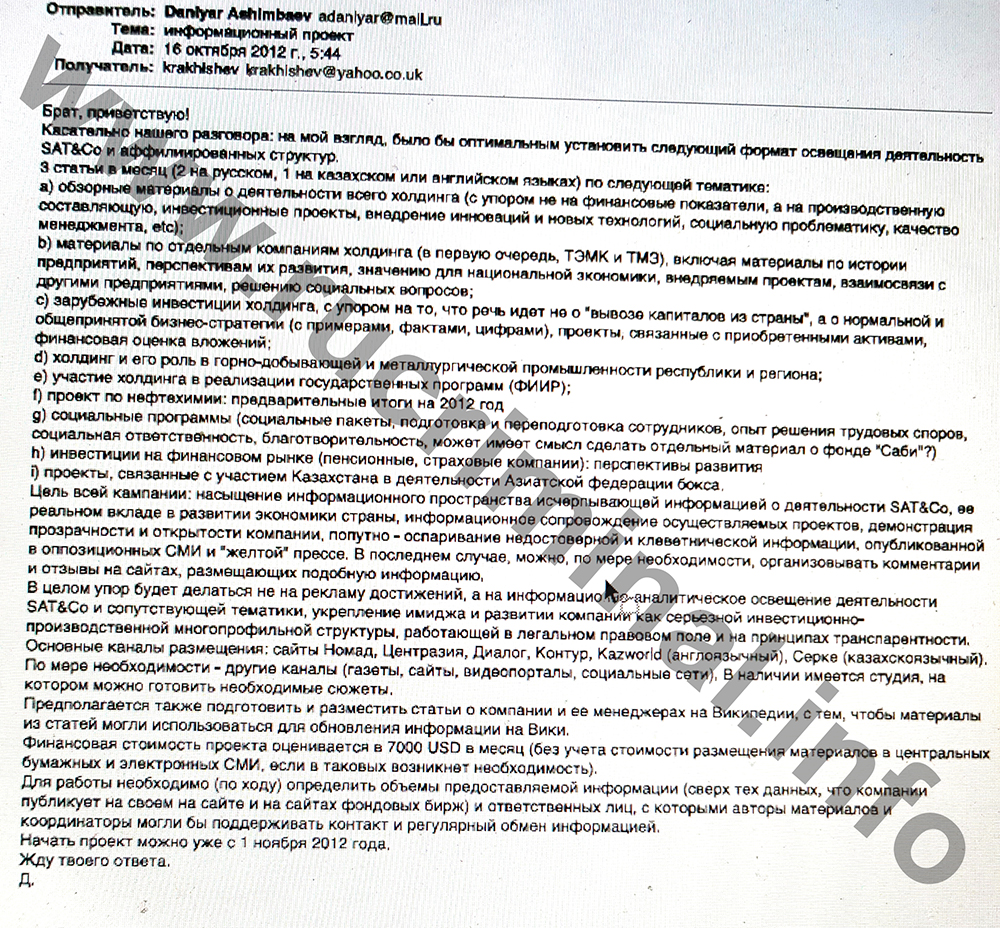 To be continued
Timofey Zabiyakin
Source: www.rucriminal.info