Source: www.ruriminal.info
Two American-Jewish businessmen filed a lawsuit in tel Aviv district court for 6 million shekels against entrepreneur and investor Moshe Hogeg, Kazakh billionaire Kenes Rakishev, partner of Hogeg in the venture Fund Singulariteam, and former financial Director of Mobli Yaron Shalem. Affected businessmen bought shares of Mobli, managed by the trio, for more than $ 1.5 million in 2013-2014. All of them, like dozens of other investors, were at the broken "trough". This is another completely failed project of Kenes Rakishev, who is engaged in investing the world of money of the top of Kazakhstan, including the son-in-law of Nursultan Nazarbayev Timur Kulibayev. Because of this, serious world structures do not cooperate with Rakishev and he deals with characters like Hogeg. However, and it Rakishev, as suggested by the interlocutors Rucriminal.info more not discussing business Affairs, and girls from modeling agencies, parties with them gifts and beauties.
Hogeg and Rakishev, who actively published materials on a paid basis about their alleged success in business, have already become serial defendants in the trial. The publication of "the globe" reports on one such claim, which relates to Mobli. Hogeg founded the company in 2010 together with his brother Oded Hogeg. The company has developed an app similar to Instagram for sharing photos on mobile devices. In the first three years of the company's operation, Hogeg reported attracting 86 million dollars from investors, among whom was Kenes Rakishev. In 2013, Hogeg and Rakishev founded the Singulariteam investment Fund and appointed former Prime Minister Ehud Olmert as its Chairman. Olmert remained in this position until he was convicted of bribery in the Holyland Hotel case in 2015. Now the Fund is headed by Hogeg and Rakishev.
Facebook instagram was difficult to compete with, however, especially after the latter was acquired by Facebook in 2012. The company disappeared, dozens of employees were dismissed in 2016 and completely ceased their activities a year later. In April 2017, the media reported that the social media company Snapchat bought a Mobli patent for $7 million.
And two businessmen, Barry Friedman and Marvin Mermelstein, filed a lawsuit against Hogeg, Rakishev, Shalem and Mobli Technologies 2010 Ltd. The plaintiffs claim: "the sale of a patent for a very small amount, compared to the huge amounts invested in the company that went down, is a "gilded failure.""
The lawsuit begins with a statement that the defendants organized "fraud and deception, unjust enrichment, and extreme negligence by manipulating mobli's stock prices," thereby causing enormous financial damage to Barry Friedman and Marvin Mermelstein. Friedman, a businessman from new Jersey, is the owner of BRF Capital (also listed as plaintiff in the case). He is also a relative of Azorim's Chairman of the Board and controlling shareholder Hershey Friedman. Mermelstein, based in Chicago, is also a real estate businessman in the United States. In the claims, the businessmen are accused of buying Mobli shares on the basis of "false data presented to them by the defendants"- Hogeg, Rakishev and Shalem.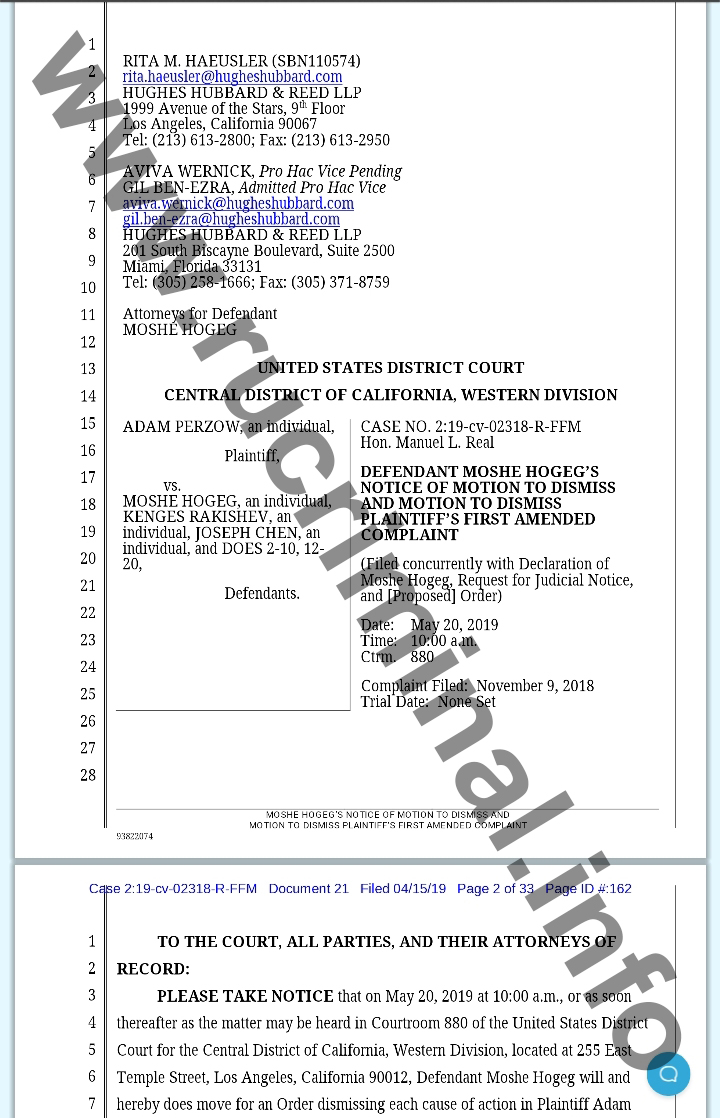 According to sources Rucriminal.info on hearings will be raised and correspondence Rakishev and Hagege that was leaked. It follows that the two businessmen were no longer engaged in the Affairs of Mobli, and the discussion of joint, very specific, preferences. So, somehow Moshe hogeg Sent a video in which beauties Express interest in Rakishev and invite to join them in Israel. In response, Rakishev cordially thanks his partner and promises to bring "special" beauties from Kazakhstan. As can be understood from the following correspondence exchange of "gifts" took place. Hogeg sends Rakishev girls pics Daniel, which boasts of a clock Dior - gift from Kenes.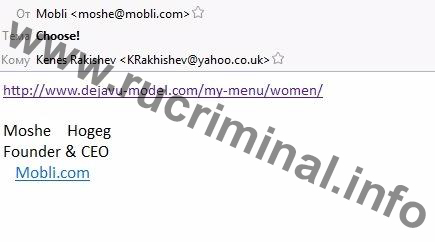 And then the friends begin to discuss the meeting in new York. Hoseh Rakishev resets a link to a site modeling Agency DEJAVU MANAGEMENT, offering to choose girls to socialize with them.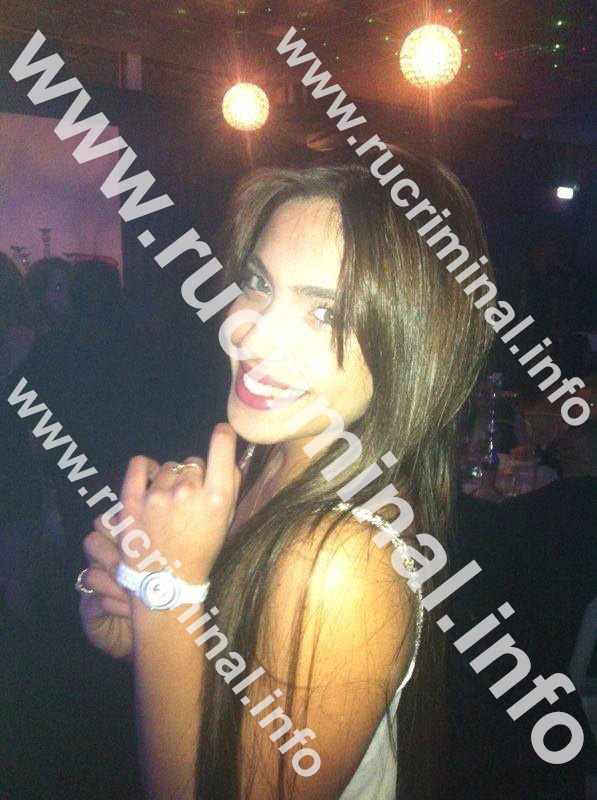 To be continued
Timothy Zabiyakin
Source: www.ruriminal.info