Source: www.rucriminal.info
In recent years, stories about the multifaceted activities of Russian businessmen in seemingly decent countries have become increasingly common knowledge. If you follow these stories a little more closely, then they become already similar to adventurous novels. This is how the adventures of the "fish king" Vitaly Orlov unfold.
Orlov's business, as usual, began in the 90s on the ruins of the Murmansk fishing state farms, and took a civilized form far from immediately. Over the past twenty years, there have been many scandals surrounding the Norebo corporation he created, the loudest of which in 2017 resulted in a lawsuit by another shareholder, Alexander Tugushev, in a London court. After that, interest in the Murmansk fishing industry and in the personal finances of Mr. Orlov himself (by the way, the dollar billionaire) did not fade away.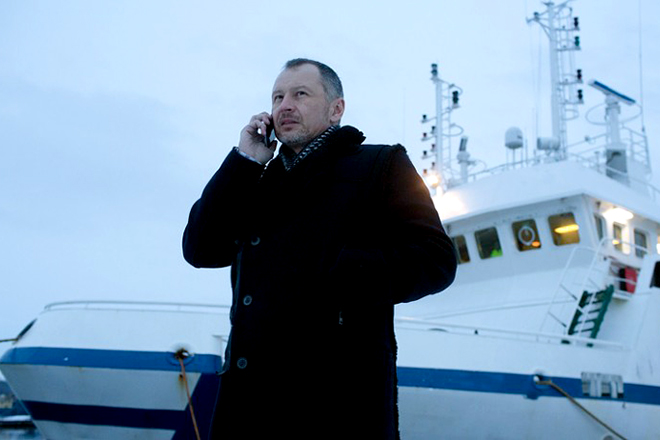 The Icelandic newspaper Stundin in early November of this year came out with devastating material (https://stundin.is/grein/9920/) explaining how the Scandinavian schemes of Norebo led to accusations of Samherj, the largest Icelandic fishing holding company, in laundering the capital of Vitaly Orlov. Active washing led to the Norwegian bank DNB NOR blocking Cape Cod FS accounts, a company associated with Samherj and probably with Orlov himself. In total, from 2011 to 2018, more than $ 70 million was withdrawn through a Norwegian bank - these funds under various pretexts were transferred to offshore, and then were often used as bribes in other regions (primarily in Africa). The beneficiaries of the main washing company, Cape Cod FS (Marshall Islands), have not yet been identified by law enforcement agencies, but it's known that we are talking about some mysterious "Russians". And here again Mr. Orlov appears.
In 2011, a certain Brynjar Porsson came to Samherj and her subsidiary Katla Seafood (Canary Islands) as a top manager. Mr. Porson was responsible for the very transactions that are now recognized as laundering dirty money. In 2013, Katla Seafood was bought out by Mr. Orlov, and Mr. Porson chose to leave his post at Samherj and remain at Katla Seafood, now a subsidiary of Murmansk Trawl Fleet JSC (that is, it has already officially started working for Orlov). It is worth remembering that Norebo has a dedicated structural unit (Norebo Africa), which is responsible for this continent, and Orlov does not deny the presence of business interests there. Stundin quotes Mr. Browder, who recalls that Scandinavian banks are traditionally widely used by Russian oligarchs and criminals to launder illicit proceeds, including because for these countries the flow of Russian money is too important to refuse. The conclusion suggests itself - the scandal surrounding Samherj is in fact connected with Orlov and his assets in Scandinavia and Africa.
The case of Cape Cod FS turned out to be so extraordinary that the competent authorities were nevertheless forced to react - the Financial Supervisory Authority of Norway stated that the necessary measures were not taken with respect to the companies involved to prevent the legalization of proceeds from crime. This was the first official reaction to money laundering by Orlov's companies - but probably not the last.
For example, now we know that the Murmansk oligarch also withdraws its capital through Switzerland and Luxembourg, and then his money ends up in Hong Kong, on the BVI and in Panama (in the very funds whose twin brothers caused a scandal with the Panama dossier) . But how did it happen? And is it worth the wait for a new scandal - say, the Swiss dossier?
So, in the personal interests of Vitaly Orlov, three companies are used, including Romanov Invest Limited, Campboard Holding S.A., and VOS Heritage Foundation (Vitaly Orlov and Sons).
Since 2006, Romanov Invest Limited was responsible for the Luxembourg law firm Tabery & Wauthier - the partners of the firm had the right to sign on bank documents, and their mailing address was indicated as the contact address of the company. From that time until 2009, anonymous individuals were registered as shareholders of the company, whose mailing address nevertheless coincided with Tabery & Wauthier. Since 2009, the Panamanian company Campboard Holding S.A. has become the sole shareholder of Romanov Invest Limited, on whose behalf, however, all the same gentlemen spoke.
In the case of the VOS Heritage Foundation (established in 2010 and originally called "Vitaly Orlov and Sons"), no one was going to hide the connection with Orlov, as the name implies. However, apparently, according to an old habit, all roles in the fund are distributed between the denominations - Naiman Consulting AG (Luxembourg), Royal Oaks Wordwide Inc. (Panama), and Ivan Kaufmann (Liechtenstein). Interestingly, the latter is on the boards of 56 different Swiss companies and at the same time heads the Naiman Consulting AG.
Another jurisdiction - Hong Kong - was simultaneously used as a tax haven for the Norebo business and one of the ways to hide Orlov's assets. There was even a castling almost in the Kremlin style - a certain Mr. Mansfield, a native of Sweden, was for many years the top manager of the Hong Kong company TTC (it was used by Norebo to organize transfer pricing schemes, and its shareholder was VOS Heritage Foundation). In 2011, he suddenly resigned and created a new company in his name using the TTC registrar - Troy Solution Limited, which was used to organize personal finances of Mr. Orlov. Then the company was renamed Primest Capital Hong Kong Limited, although for some reason Mansfield prefers to claim that it is a new company (perhaps this is due to some mysterious operations of the "first" company, which now disowns). In 2016, he triumphantly returned to TTC as a director and now manages both personal and corporate finances of Mr. Orlov. Of course, no declarations of a possible conflict of interest are submitted by Mr. Mansfield.
And I must say, all this is very strange. Mansfid is not a nominee director or trust manager - on the contrary, he is a top manager in the companies of the Norebo group, that is, manages a specific business. And then suddenly, for some incredible coincidence, Mr. Mansfield begins his own business in the same field in which he works as a hired manager. Immediately he receives at his disposal a huge amount of money from a person who was an employer for him, and then returns to his directorial position in Norebo. So can it be considered that it was really about funds for managing Orlov's personal assets, or is this again a laundering and concealment of the latter's income?
The bottom line is that in addition to frankly offshore (and in fact black) Panamanian jurisdiction, Murmansk fishermen use Liechtenstein, Luxembourg, Switzerland and Hong Kong for their troubled affairs. In these countries there are companies acting as nominee shareholders and management companies of Orlov funds, law firms providing their activities, serving banks and personal billionaire wallets - Kaufman, Porson and Mansfield.
This is also surprising for two reasons. Firstly, it is very unlikely that Panamanian funds are used by Russian business because of their exceptional love for Central America. Panama is used in cases where it is necessary to hide where the money came from and the place where it is stored - so as not to pay taxes or to launder unjustly acquired money (and often both at the same time). Of course, in no country it was never a secret neither for the financial police, nor for banking supervision, but after the Panama dossiers, operations through this country became already quite a frank move (and a marker of unclean hands of participants in the schemes, too).
Secondly, it was no coincidence that we began with a memory of the London court between Orlov and Tugushev. In the course of the dispute between these respected gentlemen, the English court had already managed to arrest all the property of Norebo once and ordered to disclose information about all the assets of both Norebo and Orlov. And this is the case when the poor memory of the European financiers and lawyers of the Orlov funds can turn into very serious problems for them (the British justice, as you know, has long arms). So, we should wait for the next scandal around the newly discovered laundry, but only this time in respectable European countries. The result in such cases is the same - mind-blowing fines for participants in the landromat, tightening of regulation in the mentioned countries and global sanctions for beneficiaries of schemes (in our case, obviously, for Mr. Orlov). It could not be otherwise, because the owners of the Murmansk business from the 90s decided, to the delight of the honorable public, to sue in a country like England.
As we see, Orlov's landromats operate, at least, in Norway, Iceland, Liechtenstein, Luxembourg, Switzerland, Hong Kong, Panama, BVI, - in any of these countries there are bodies responsible for prosecuting those involved in legalization. That is, at any time in each of the named countries may appear criminal proceedings against Orlov and his assistants. And there is also Great Britain, where Orlov, as a venerable billionaire, should look like an honest man, and not a serial fraudster. Russian law enforcement officers may also have questions - did Orlov include these funds in the declarations filed during the capital amnesty? Or forgot too?
Thomas Gordon
Source: www.rucriminal.info