Source: www.rucriminal.info
The president of CSKA Moscow, Evgeny Giner, joined the leadership of the Russian Football Union. At a meeting of the RFU executive committee, held on February 26, the 60-year-old functionary was elected vice president of the organization. This means that Giner will combine the leadership of Russian football with constant summons for interrogations. Giner is an "authoritative" businessman, a member of the gray banking schemes, has a very turbulent past and no less interesting present. Among his close contacts are top-level mafiosi (for example, the same "thief in law" Oleg Shishkanov), shadow bankers, gangsters, thieves, etc. Friends of the president of CSKA are both killed and imprisoned, and Giner is certainly interrogated.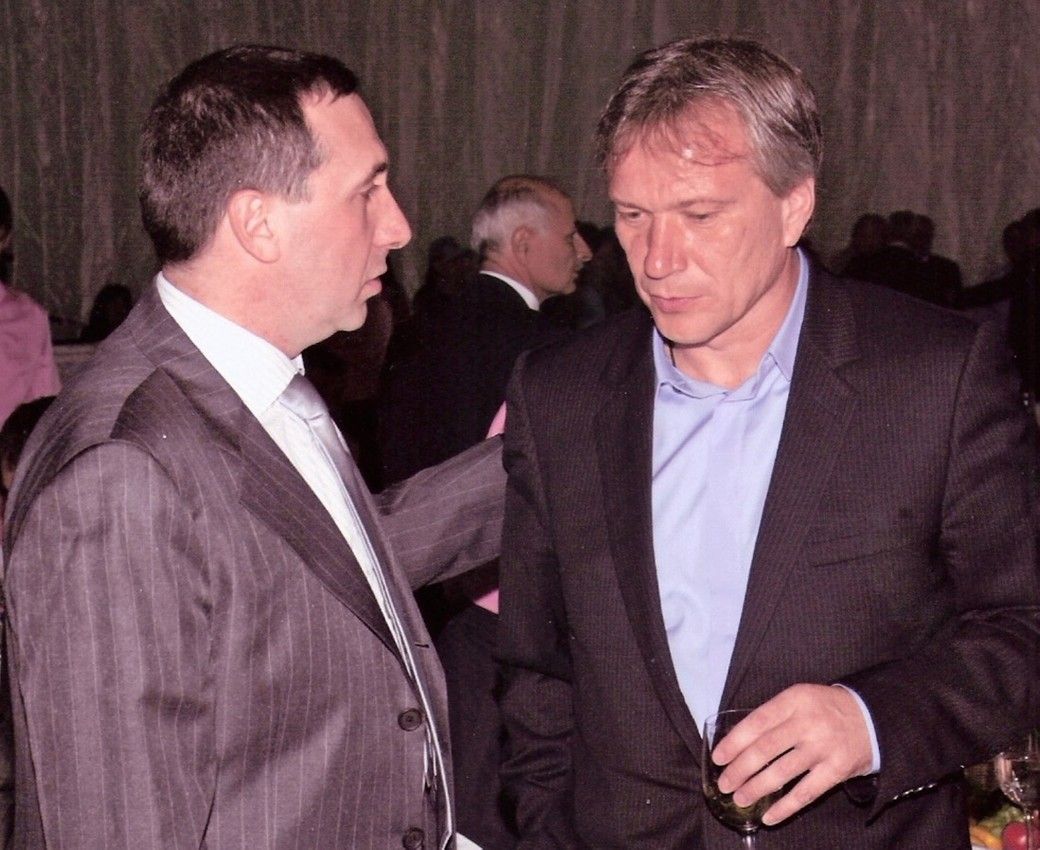 As Rucriminal.info told, Evgeny Giner (as a representative of the Kharkov organized criminal group of Salygin) began his career in the Luzhniki clothing market. There Giner met Alexander Tukmanov, who, through the RFU, was the curator of FC Torpedo, owned by businessman Vladimir Aleshin. He also owned the Luzhniki stadium. It was Tukmanov who at one time helped Yevgeny Giner become the owner of CSKA, and then lead the Russian Football Premier League. And Giner's deputy for the RFPL became his friend - "authority" Tatevos Surinov, until he and Suleimanov were arrested in 2004 on charges of major fraud. Unofficial owner of FC Saturn "thief in law" Oleg Shishkanov
At the disposal of Rucriminal.info was the protocol of the interrogation of Yevgeny Giner in the case of the murder of a friend of the president of CSKA, an authoritative businessman Shabtai Kalmanovich. Giner knew everything about his friend and his affairs, but did not tell the investigator anything, getting off with general words.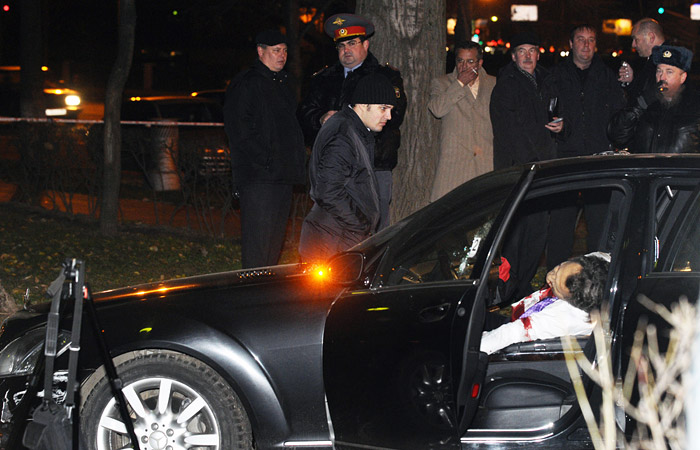 "On the merits of the criminal case, I can show the following: Von Kalmanovich Shabtai Genrikhovich was my close friend. I met him around the end of the 90s and the beginning of the 2000s, at a sporting event, which I can't remember right now due to the passage of a lot of time. Later, in the course of communication, Von Kalmanovich told me about himself, about his childhood, about his life in general. Von Kalmanovich told me that he was originally from Lithuania, at one time he was the owner of the basketball club "Zalgiris", once he told me that he took a football club for work on a bet and was able to bring him to the championship. By his appearance in the course of our communication, it was possible to conclude that his life is going well, with the possible exception of some domestic troubles.
As far as I know, von Kalmanovich had three spouses, I have never seen either the first spouse or the second. He has a daughter, Liat, from his first marriage, a daughter, Daniel, from his second marriage, I also know that the spouse of his second marriage was called Anastasia, I knew my third wife, her name was Anna Arkhipova, I met her many times, I can only say good things about her , now she seems to be in charge of a basketball club in the town of Vidnoe, Moscow region, "Sparta and K". I cannot say anything about von Kaomanovich's second wife Anastasia, since I have never seen her and did not communicate with her.
We saw von Kalmanovich very often, I liked meeting with him and communicating, we went to football matches together, I came to his office on Sergei Makeev Street, house No. 1 in Moscow.
Von Kalmanovich can be characterized as a good person, decent, honest, kind, friendly. People like him are rarely found in life. It was possible to be friends with such a person.We never touched upon serious topics in our communication, about those topics that we talked about (for example, about personal life), it seems to me that he was as frank with me as possible. We went to the bathhouse together with him, since von Kalmanovich loved the bathhouse, he often came to take a steam bath with me. I know that Shabtai Genrikhovich was serving a sentence in the 70s, in Israel, for espionage in favor of the USSR, for about 6-7 years.
Von Kalmanovich did not tell me details about his stay in prisons in Israel. I know that Shabtai worked before his arrest in Israel in the Main Intelligence Directorate of the USSR.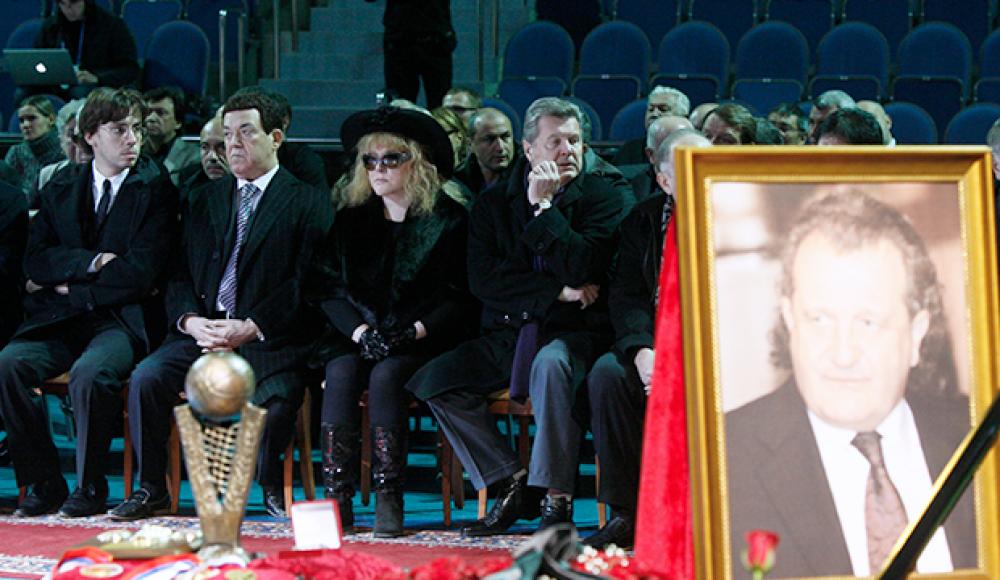 There was a case, around the mid-2000s, when Shabtai approached me with a request for help in providing personal protection for him and his family. Shabtai explained this to me by the fact that he had some difficulties in business problems with competitors, he did not tell me any specifics. At the moment when the time came for the security to start work, Shabtai called me and said that such a need had disappeared, as a result, security services were not provided to him.
I know that one of his business partners was I.F. What business they had is unknown to me. I also know that Shabtai had some kind of business related to the pharmaceutical business with Mikhail Krichevsky, but as far as I know, the latter was not Shabtai's partner. I talked with Krichevsky about the murder of Shabtai, he told me that he did not understand why he was killed and it is not known who could have done it. Currently Krichevsky lives in the State Israel. I know that Shabtai mainly ran a business in the pharmaceutical field, which companies he owned is unknown to me. Also, I do not know what profits he received from his business. I did not ask him questions about the amount of earnings that bring business to Shabtai. I believe that such questions should not be asked to friends, since asking such questions is rudeness. Currently, I do not maintain relations with Shabtai's daughters, they, as far as I know, live in the State of Israel, where I have not traveled for a long time. The last time I saw Shabtai's daughter Liat was at the death of Shabtai. At that time I was visiting the State of Israel and visited the cemetery where Shabtai is buried. When I was in the State of Israel, I did not communicate with Liat at all.
I was not aware of any conflict situations between Shabtai and anyone immediately before the murder. Once again, Shabtai was known as a non-contentious, kind person.
About basketball, I can say that it was Shabtai's hobby. In addition, I repeat, I want to clarify that the women's basketball club did not bring any income to Shabtai. At the present time, I cannot say who benefited from the death of von Kalmanovich Sh.G., I do not know. In addition, I know that after the death of Shabtai, his second wife Anastasia flew to the State of Israel with the aim of taking her daughter Daniela with her to the Russian Federation. However, Anastasia did not succeed in this. I also know that Anastasia and Liat were sued in the State of Israel for custody of Daniela. I do not currently know how these trials ended.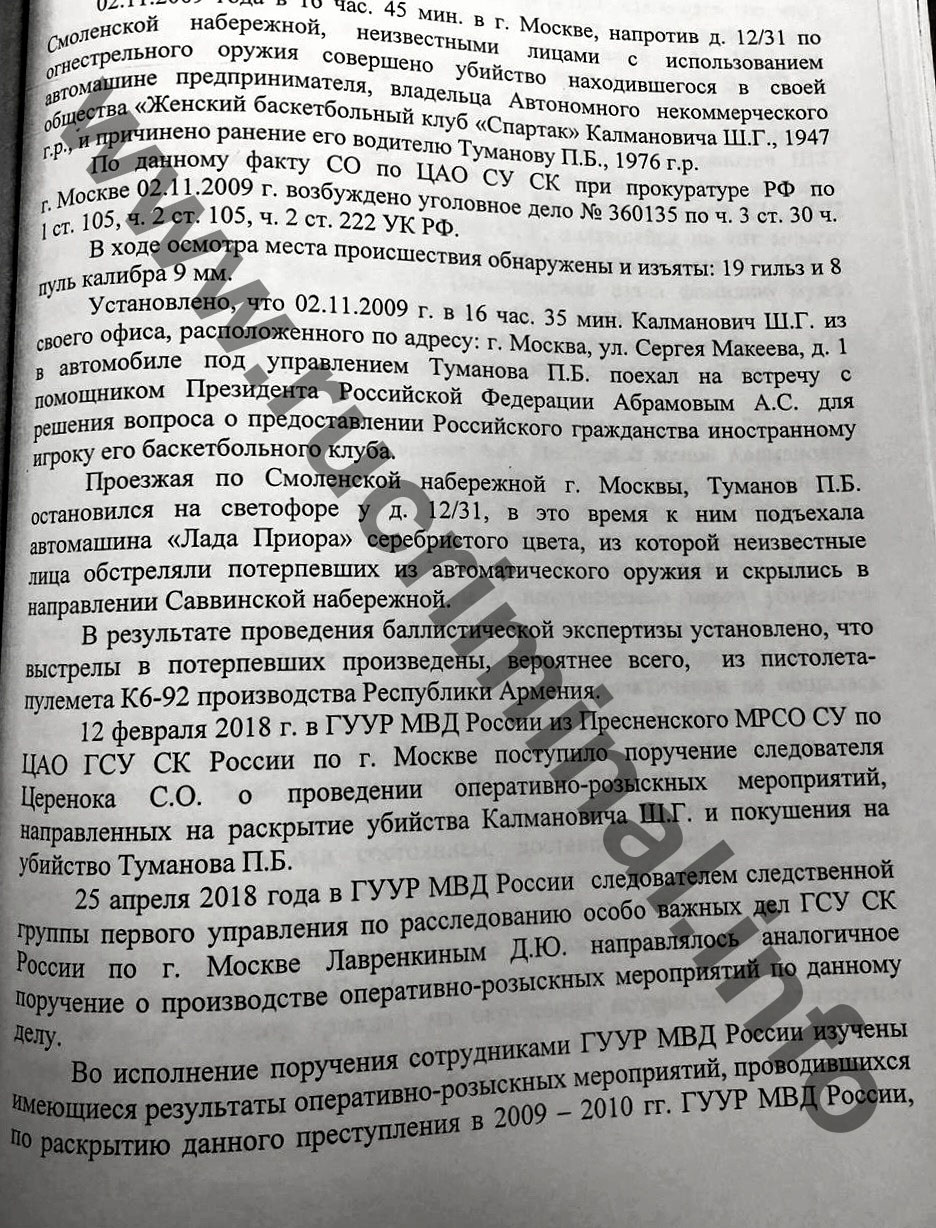 To be continued
Alexey Ermakov
Source: www.rucriminal.info