Source: www.rucriminal.info
The family of Pavel Astakhov, a former child rights ombudsman, may have something to do with the 450 million rubles ($ 1.2m) scam. The sources of Rucriminal.info told about this and provided the relevant documents. According to their data, the Astakhovs' fabulous enrichment scheme operated as follows.
1. Pavel Astakhov chooses a suitable victim. More often these are wealthy people, as a rule, they choose gullible and decent people. At one time the Astakhovs managed to get into the circle of wealthy people, and now they are actively using it.
Astakhov acts as a puppeteer, namely, he has a "puppet" Kurdyukov Yuri Vladimirovich, whom he and his sons Artem and Anton Astakhov introduce to their wealthy environment, including close friends and comrades. Kurdyukov Yuri Astakhovs are presented as a decent and responsible entrepreneur, the closest friend of the family, who has a number of businesses in different areas. They say that Yuri is a proven businessman who has proven himself on the positive side, to whom they have given large sums of money to manage. And supposedly they gave him not only their own money, but also the money of their comrades.
When we met, Yuri Kurdyukov was always dressed upright, drove up in luxury cars with a driver, closed accounts at the table, made expensive gifts.
At the same time, according to sources of Rucriminal.info, Yuri acted under the leadership of the Astakhovs, confirming that he had a business and that his friends were engaged in various fields of entrepreneurship. Basically, it was explained that money is needed in circulation for the purchase of tableware from abroad, since there are stable sales channels for them in the Russian market. Yuri, like most swindlers, has a talent for winning over people and inspiring confidence.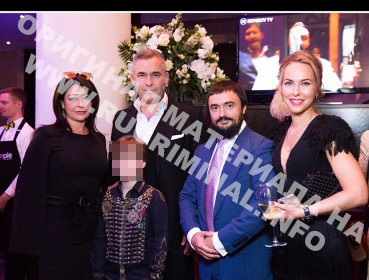 Photo # 1
Photo from 2018 from the birthday of Yuri Kurdyukov. Restaurant "Tatler" in the Ukraine Hotel on Kutuzovsky Prospekt.
From left to right:
- Astakhova Svetlana Alexandrovna (wife of Pavel Astakhov)
- Astakhov Pavel Alekseevich
- Yuri Kurdyukov
- Olga Sergeevna Aleshina (wife of Yuri Kurdyukov).
2. According to the interlocutor, Pavel Astakhov gives instructions to Yuri on how to behave with this or that client, what to say, how to answer questions, and what business story to tell so that the story seems more believable.
In the period from 2015 to 2018, Yuri managed to attract funds from several victim clients for a total amount of more than 450 million rubles. Yuri Kurdyukov took funds under a loan agreement or by receipt.
3. As soon as Yuri received money under the guidance of his mentor Astakhov, for the first few months he gave the earnings stipulated in the contract on time, as expected. Further, Yuri said that there is not enough money in circulation, and that it is still necessary to attract money to the business, then the business will develop on a large scale. Victim clients, seeing that Yuri Kurdyukov gave his earnings on time and gave the impression of a decent person, gave him more money. At the same time, Pavel Astakhov and his son Artem Astakhov did events at which they, Yuri and clients crossed paths. There the Astakhovs and Yuri told clients how everything is going smoothly in business, and that Yuri is great. Thus, they even more attracted customers who were ready to give an even greater amount.
4. After three years, Yuri began to tell all clients that he had certain delays in issuing the agreed income under loan agreements. When asked to return the funds, Yuri replied that there was no need to stop the activity, and it was necessary to wait a little. Then Yuri stopped communicating with all clients, changed his phone number, moved from his permanent place of residence and moved his family. At the moment, Yuri rewrites his property, namely, the house and land in New Riga and parking spaces in Moscow, to Natalia Aleshina (the sister of his wife Olga Aleshina). Further, the theatrical performance of Yuri and Astakhov continues - at the same time Pavel Astakhov is announced with his sons Artem and Anton. They tell clients a heartbreaking story about how they gave Yuri funds under a loan agreement, and Yuri allegedly dumped them as well. At the same time, in order to falsify evidence and divert eyes, the Astakhovs' loan agreement was drawn up retroactively. And suddenly it turns out that Natalia (sister of Yuri's wife) becomes a guarantor under a loan agreement between Yuri and Astakhov. Under the cover of this agreement, the Astakhovs sue Yuri in the amount of 372,201,432.56 rubles. - this figure, by an incredible coincidence, is slightly less than the total amount of the creditors' loan. There is a confirmation on the official website of the FSSP.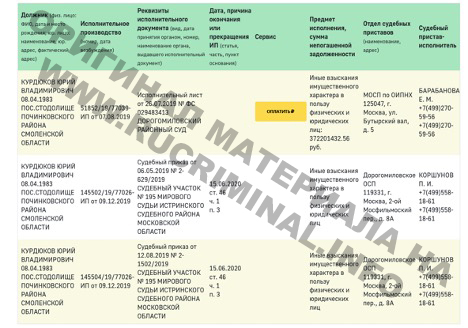 Photo # 2
Extract from the FSSP.
Extract from the website of the Federal Bailiff Service.
The dramatized debt of Yuri Kurdyukov to Pavel Astakhov is more than 372 million rubles. which is slightly less than the total amount of the creditors' loan (372.201.432.58 rubles).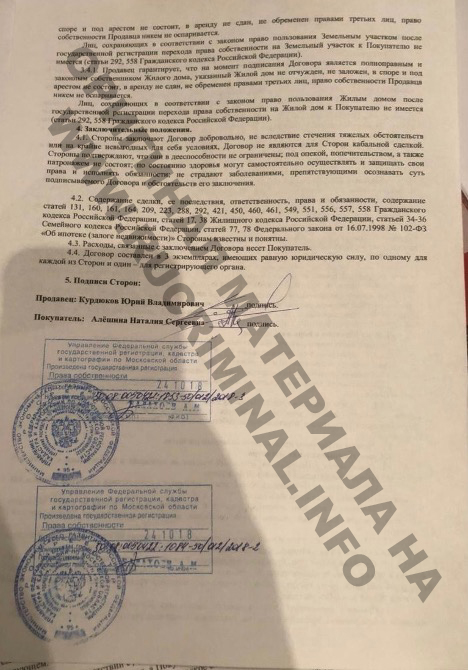 Photo # 3
Signatures on the contract of purchase and sale of a residential building and land plots of the seller Yuri Kurdyukov and the buyer Alyosha Natalia.
Residential d with an area of ​​483 m2 and the land plots were rewritten from Yuri Kurdyukov to Natalia Aleshina (sister of Yuri's wife, Olga), at the direction of Pavel Astakhov. In order for Natalya Aleshina to subsequently become a guarantor under a forged loan agreement between Kurdyukov and Astakhov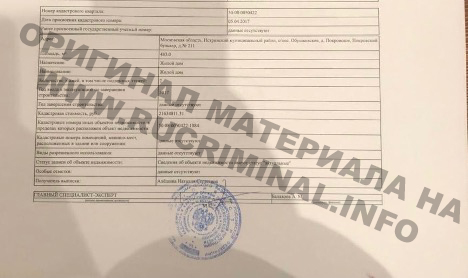 Photo # 4
Extract from the Unified State real estate registry - a residential building rewritten by Yuri Kurdyukov to Natalia Aleshina.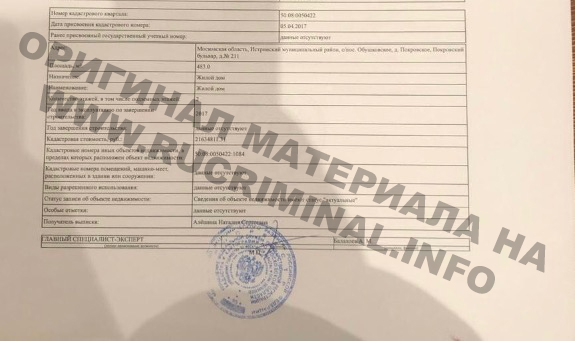 Foto # 5
Extract from the Unified State real estate registry - a land plot rewritten by Yuri Kurdyukov to Natalia Aleshina.
5. Pavel Astakhov with his sons tell how Yuri threw them. And that, it turns out, clients come to Pavel and demand to return their money, which was transferred to Yuri on the recommendation of the Astakhovs. Artyom allegedly sells the last of his mother's and father's watches, jewelry, phones, pretending to be a ragamuffin. Moreover, Anton Astakhov, known in the market as a cashier, has put a loan on Yuri Kurdyukov in the amount of more than 150 million rubles. Anton also accuses Yuri of fraud, and allegedly no one can find Yuri. At the same time, Anton Astakhov offers to find Yuri in Moscow for a certain reward and boasts of his contacts in the FSB. It is difficult to grasp the logic in this.
6. At the same time, Yuri was repeatedly seen with Pavel Astakhov while Yuri threw people from whom he was taking money. The Astakhovs, at any opportunity, talk about how Yuri Kurdyukov - a fraudster robbed them and clients who listened to their recommendations to invest in Yuri.
Another confirmation that the Astakhov family is still conducting their dark affairs with Yuri Kurdyukov is the functioning Association of Citizens for the Protection of Civil Rights and Freedoms, Support for Family and Children "Zashchita". The co-founder of the organization is Kurdyukov, and comrade Artyom Astakhov is nominally the executive director. The registration address of the association: 21/5 Kuznetsky Most coincides with the registration address of the Bar Association of Pavel Astakhov and Artem Astakhov's company Meteks LLC.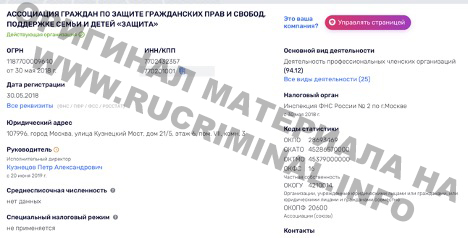 Photo - screen of the Association Protection
Commentary: The registration address of the Zashchita Association with its founder, Yuri Kurdyukov, coincides with the registration address of Pavel Astakhov's Collegium and the company of his son Artem - Meteks LLC.
Another of the curious facts of the relationship between Astakhovs and Kurdyukov is the general driver Maxim Nikolaevich Osipov. Previously, the driver worked for Yuri Kurdyukov, but when Yuri collected money and deceived people, the same driver began to carry Artyom Astakhov and his family,
At the same time, Maxim worked in parallel for the Astakhovs and Yura.
Yuri Kurdyukov gets out of the car from the state. number С410МО799, issued for the driver - Maxim Nikolaevich Osipov. Maxim Osipov works for the Astakhovs.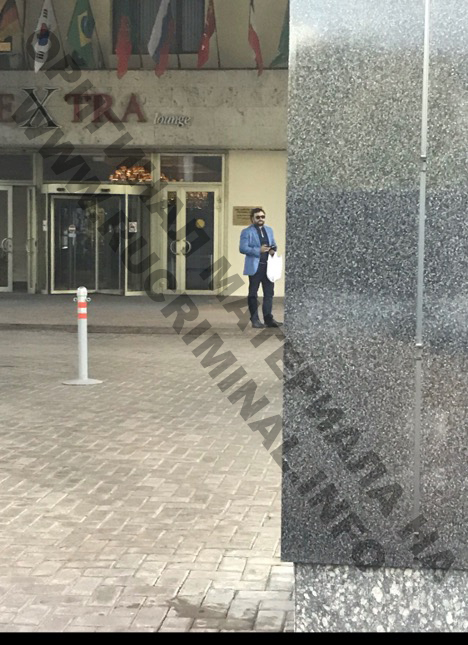 Photo from 2019. Yuri Kurdyukov is waiting for the driver Maxim Osipov, who works for the Astakhovs.
At the moment, some creditors are trying to get their money back, given to Yuri Kurdyukov, in an official way. A case was initiated upon the fact. Maxim Osipov (the driver of Yuri and the Astakhovs) also appeared for interrogation. For interrogation, Maxim appeared with a lawyer provided by the Bar Association of Pavel Astakhov. Maxim gave false testimony.
To be continued
Alexey Ermakov
Source: www.rucriminal.info