Source: www.rucriminal.info
Basmanny court of Moscow on Tuesday extended for three months the term of arrest of the suspended Senator from Karachay-Cherkessia Rauf Arashukov. The latter said at the hearing that the case against him "custom. And his lawyer said that the testimony given by Rasul Adzhiev, acquitted by the court in the case of the murder of the head of the movement "Adyge Hase" Aslan Zhukov, can not be invoked. Why Arashukov so afraid of the testimony adzhieva you can understand from publications Rucriminal.info. The first one we told how right at home Arashukova his son Ruslan Agaev "ordered" Adzhiev abuser Rauf. While Agoew constantly came into the room and consulted personally with Arashukova. In the second article we with adzhieva has described how the murder of Zhukov. In the new publication we will tell you how Arashukov took the news about the removal of the offender and what he did after that.
According to ajiyev's testimony, he learned that he had killed the leader of Adige Hase only a few days later from the media. Before Agoev said that the victim – the owner of the car wash, offended Arashukova. After three days Adzhiev met Agaevym in Stavropol in the area of the shopping center "Kosmos". "Ruslan Agoev said that Rauf Arashukov was satisfied with the result of my murder of Aslan in the designated seven-day period. ...Agaev got from bordochka a wad of bills, handed them to me and said that Rauf Arashukov gave me one million rubles so that I could have some time outside of KCR," - said in the interrogation adzhieva, which is available to Rucriminal.info.
After that Rasul left to Krasnodar Krai where wandered on different hotels in Gelendzhik and Novorossiysk. He was caught for questioning in the "Zhukov case", but after he was released. Adzhiev went to St. Petersburg and then to Stavropol. There he met several times with Agaevym, was at his home. "During one of our meetings Ruslan Agoev told me that Rauf Arashukov is interested in the location of the gun from which Aslan Zhukov was killed, and that he offers to give this gun to him so that with its use it could be tied to this crime of another person and thus solve the problem. As I understood, Rauf Arashukov suggested to substitute other person not involved in this crime and to bring him to trial. I wasn't interested in details of this scheme as I wasn't going to take part in it. In this regard I answered Agoev that the gun is already destroyed and asked to transfer to Rauf Arashukov that I don't intend to take part in similar schemes. Then Ruslan Agaev gave me a proposal of Rauf Arashukov to leave at some time in Dubai UAE and live there in the apartment belonging to him. However, I refused," ajiyev said during the interrogation.
Then Agoew and Arashukov began to avoid Achieveme. Tom did not like it, he decided to find out the reason for this institution and went to habez. Rasul called Agoev to a meeting and said he wanted to meet with Rauf Arashukov personally and clarify the situation. At this moment Arashukov was in the building of administration of the area where Agoev transferred Adzhiyev's request. Rauf was confused, and then he began to panic. "From meeting with me on this day Rauf Arashukov refused, telling me through Agoeva that be sure to meet with me only in another place, because he is afraid that we can see together," - said in the published Rucriminal.info adjiev's testimony.
Then Rasul was detained. After the acquittal, he went to the office of Gazprom, on Kulakov street in Stavropol, where Agoev was already working. Adzhiev asked for 2 million rubles. Ageev promised and in the evening people from it brought 360 Tr Agoew More in touch with Agaevym not come out.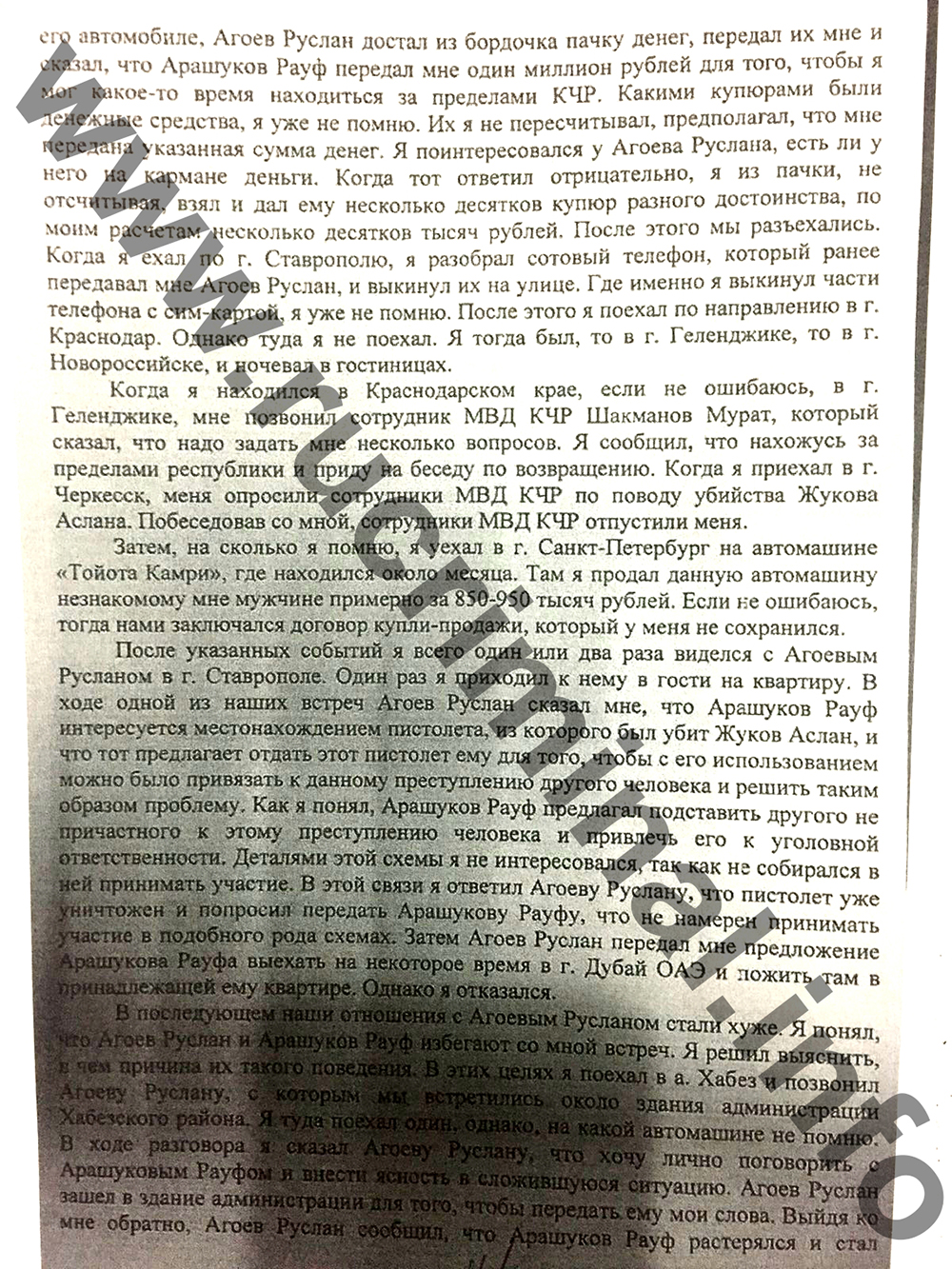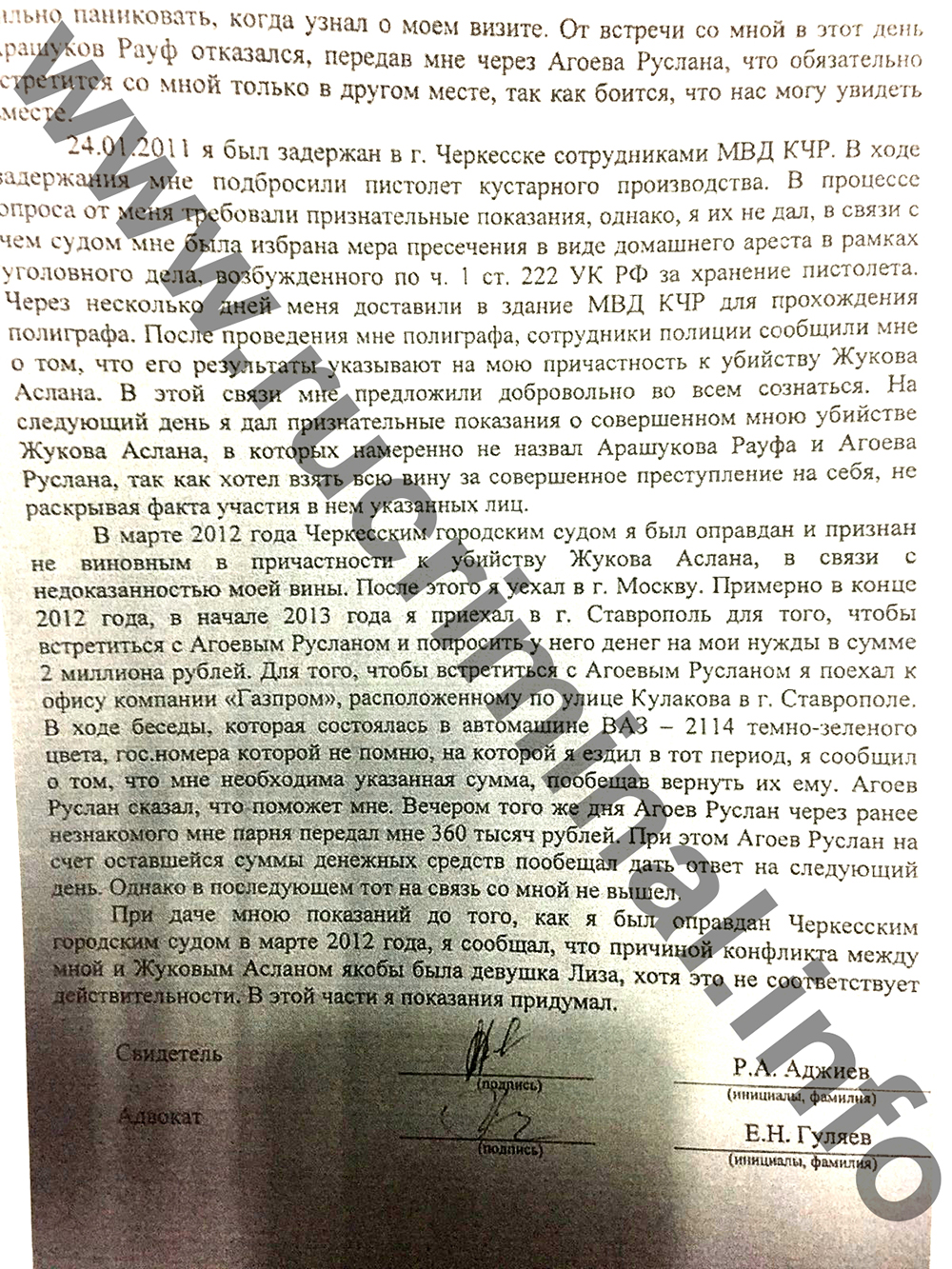 To be continued
Vitaly Tolstoy
Source: www.rucriminal.info