Source: www.rucriminal.info
As predicted by Rucriminal.info, Imangali Tasmagambetov, father-in-law of businessman Kenes Rakishev, was removed from the post of ambassador of Kazakhstan to the Russian Federation. The latter was saddened even more. And this is not his only problem. After the father-in-law's resignation, Rakishev can feel relatively calm only in London. However, its European security is threatened by possible US sanctions. Two years ago, the head of Chechnya, Ramzan Kadyrov, a close friend and business partner of Kenes Rakishev, was included in the Magnitsky list. Rakishev is an active participant in promoting Kadyrov's interests in the international arena and now sanctions can reach him.
According to sources at Rucriminal.info, Kenes Rakishev has been depressed for the past few weeks. "Blows" fly him one by one. The main one is the resignation of Imangali Tasmagambetov. We will talk about it in more detail below. In the meantime, let's talk about the main headache of Rakishev. In December 2017, U.S. authorities included Kadyrov on the Magnitsky's list and named him responsible for "killings, torture, and other large-scale human rights violations." Sanctions were imposed on Kadyrov. Rakishev is not only a close friend of Kadyrov, but also his business partner. With the money of Rakishev, a mosque was built in Grozny, it is Rakishev who invests Kadyrov's funds abroad. Starting in 2017, Rakishev carefully cleans all references to his friendship with Kadyrov from the Internet. However, according to Rucriminal.info sources, close relations between Rakishev and Kadyrov continue, including financial ones. "Rakishev is actively investing in Israel, Europe and the USA. Everyone knows that this is not his means. A significant part of the funds is the money of Timur Kulibayev, the son-in-law of Nursultan Nazarbayev. But on the market there is an opinion that part of the funds is money of Chechen origin. Communication between Rakishev and Kadyrov continues. And all this, of course, is an excuse for including Rakishev himself in the sanctions list, "the source of Rucriminal.info believes. If the United States includes Rakishev in the Magnitsky list, he will have to leave London too.
Moreover, in London recently, Rakishev has developed a vigorous joint activity with Bekzhan Kulbaev, the business partner of his father-in-law Imangali Tasmagambetov.
According to the telegram channels Master Pen and Nezygar, Tasmagambetov has exhausted his political resources as ambassador to the Russian Federation, and the administration of the second president of Kazakhstan, Kassym-Zhomart Tokaev, is strengthening his position in key international posts. Recall that the first president of Kazakhstan, Nursultan Nazarbayev, resigned from his post in the spring of 2019. However, Tasmagambetov's resignation may have been affected by cross-border misunderstandings between Russia and Kazakhstan on the "gas issue," and the oil scandal within Kazakhstan itself. Roughly speaking, the retail price of AI-92 gasoline in Kazakhstan is 2 times lower than in Russia. From here comes the "gray" flow, both in retail and in wholesale. No matter how you slow it down, as long as there is a profit, there will be an illegal flow. The other day, a criminal case was instituted in Samara against the oil trader NNK Export, which transported cheap gas across the border, in fact, smuggling. The company has branches in Bashkiria and Kazakh Aktobe. This, as they say, is retail. Tasmagambetov and Kenes Rakishev lit up in connection with the special operation of the Kazakh security forces at the Aktobe Oil Refinery in Aktobe, which was led by the ex-ambassador's nephew Ilyas Tasmagambetov (he was removed from this post in the summer of 2019). According to the Kazakh security officers (KNB), "a large-scale special operation was conducted in the Aktobe region and several other regions of the country to curb the activities of organized criminal groups involved in the theft and illicit trafficking of oil and oil products." Gasoline from this plant is officially supplied to Russia. Apparently, unofficially, too, and in decent amounts. The Aktobe Oil Refining Refinery was controlled, which terrified the Kazakhstani organized crime group 4 Brothers. Last year, 26 members of this gang received long terms, and their leader Erkin Izbasar - 12 years in prison. Oil theft, murder, torture, extortion (https://ru.sputniknews.kz/incidents/20180802/6682918/opg-chetyre-brata-neft-prigovor.html). The whole company was fishing at the Aktobe Oil Refinery, associated with the Tasmagambetov and Rakishev family. The oil supplier to this plant was the structure of another influential Kazakh businessman, Bekzhan Kulbaev. In mid-2019, Kulbaev gained control of the Temir field in the same Aktobe region. Kulbaev served as deputy chairman of the board of JSC NC Astana EXPO-2017 (the results of which there were arrests and lengthy landings) in construction and architecture, and before that he worked at PSA LLP as director of the procurement department of the largest oil company in Kazakhstan KazMunayGas.
Around EXPO-2017 there was a scandal with the arrests of management and accusations of embezzlement of budget billions. Bekzhan Kulbaev has been living in London since 2011 (wife since 2002) with the budget and oil money of Kazakhstan on Kensington Road in a house in the very center of London (47 Albert Hall Mansions, Kensington Gore, London, England, SW7 2AW). According to experts, this house costs at least 5 million pounds. At the state construction site of Expo 2017, Kulbaev worked already as a citizen of the United Kingdom - this is a direct, deliberate violation of the law, because the Constitution of Kazakhstan says that it is impossible for Kazakhs to have dual citizenship. Bekzhan's younger brother - Kharat Kulbaev is wanted in Kazakhstan, lives in Spain. Well, the cherry on the cake - Bekzhan Kulbaev is a cousin of Bolat Nazarov, the curator of the entire gas industry in Kazakhstan.
Bekzhan Kulbaev is a longtime friend of Kenes Rakishev, they spend a lot of time with London. Both are very active in buying real estate in England.
Chef Rakishev Timur Kulibayev has a long-time common-law wife, mother of two of his children, socialite Goga Ashkenazi. She, in turn, having settled in London, became the friend of Prince Andrew. And in 2008, Knnes Rakishev, with the money allotted to him by Timur Kulibayev, bought from the Prince Andrew for Goga Ashkenazi the estate of Sunninghill Park in Berkshire. Moreover, the price was much higher than the market. Soon, The Daily Mail found out about another "bribe" for Andrew received from Rakishev and Kulibayev. It turned out that a member of the royal family received a reward of £ 4 million for their mediation services in securing a transaction between the Greek plumbing company EYDAP, the Swiss financial firm Aras Capital and the government of Kazakhstan. The subject of the transaction was the construction of a new water supply and sewage system in Almaty and Astana, and the contract value is estimated at 384 million pounds.
Bekzhan Kulbaev and Kenesa Rakishev together in England are trying to find senior patrons in England, for themselves and their bosses. In particular, Rakishev paves the "path" to Prince Andrew. All this was already waiting for Ramzan Kadyrov to make jokes. In Chechnya, they even somehow played a mocking little play with Elizabeth II.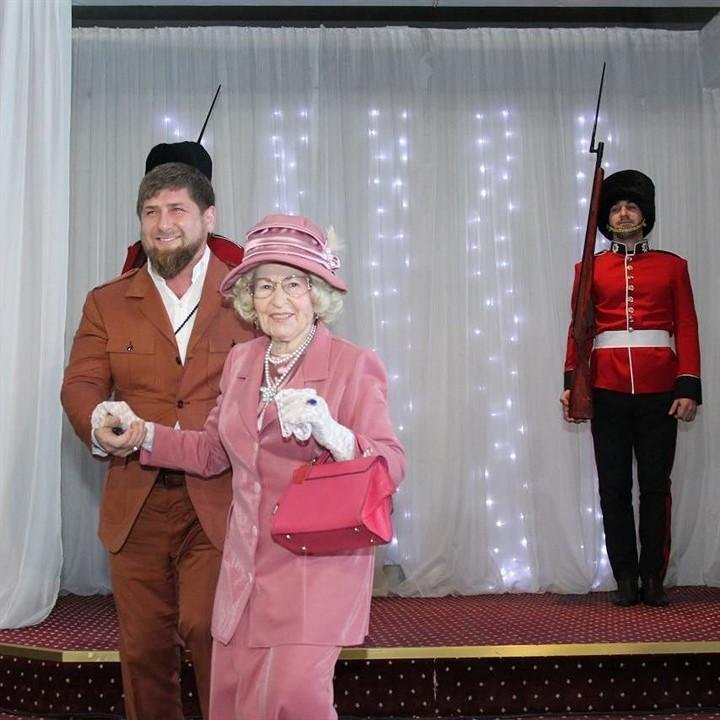 Recall that Kenes Rakishev and Ramzan Kadyrov were great friends in July 2015 on their Facebook page, the head of Chechnya himself, who decided to congratulate the businessman from Kazakhstan with warm words.
"Assalam Alaikum! Today is the birthday of my dear brother Kenes Rakishev! We have been true friends and brothers for many years. And our friendship has nothing to do with positions and financial situation. I worked as first deputy prime minister when we first met. I was convinced that Kenes Khamitovich is a decent, deeply religious person. He helps our people a lot, often visits me, always shares with me any joys and hardships. He is well known and respected in Chechnya. In the people my brother is called a prince. For charitable activities and a significant contribution to strengthening friendship between Kazakhstan and the Czech Republic, Kenes Rakishev was awarded the Order of Kadyrov. This is the real son of his people, a patriot of Kazakhstan. It is nice that he supports the President of Kazakhstan, a friend of the Chechen people, Nursultan Nazarbayev. Kenes Khamitovich has close ties of friendship with prominent politicians in the world. This contributes to a successful solution to international challenges. My dear brother! I wish you eternal youth, health, prosperity. I wish prosperity to brotherly Kazakhstan, "Ramzan Kadyrov wrote then.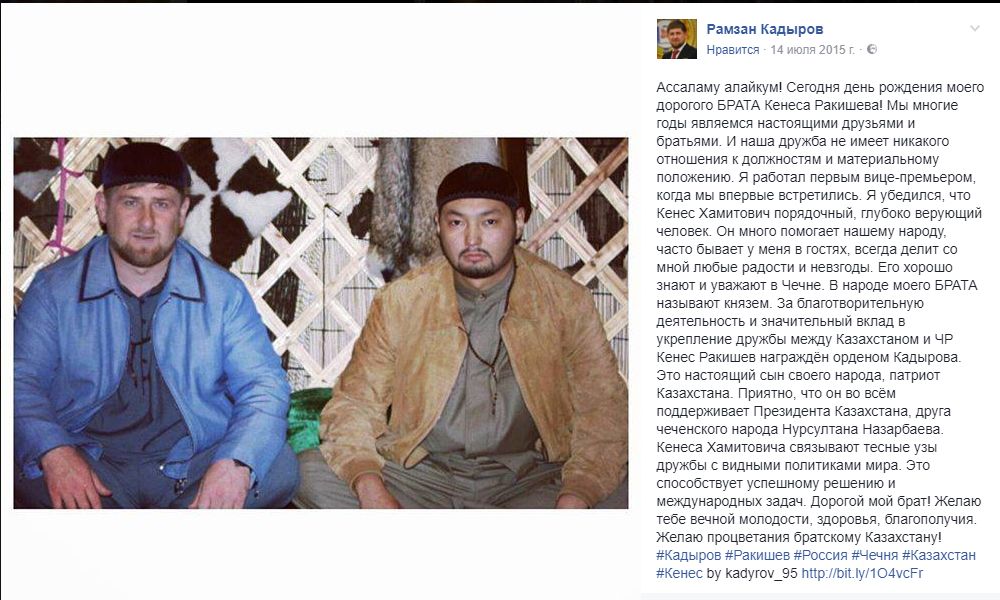 It is known that in the spring of this year, Rakishev took part in weddings on the occasion of the wedding of his nephew Ramzan Kadyrov, which gathered more than 2 thousand guests. HERE video from this wedding.
Rakishev can be seen at 5:35.
Rakishev was present at the hostilities in Grozny without rules with the participation of young children. This wild event sparked condemnation around the world.
It was Rakishev who organized the meeting of his friend Kadyrov with his father-in-law Imangali Tasmagambetov, former head of the FSB of the Russian Federation Nikolai Patrushev and Nursultan Nazarbayev.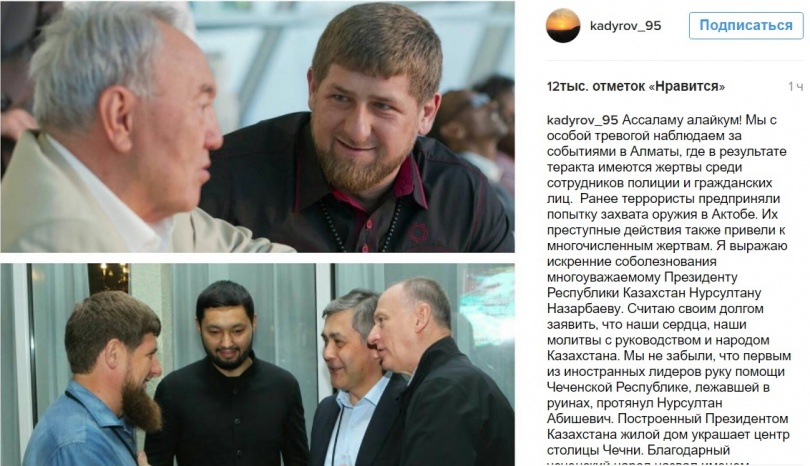 To be continued
Timofei Zabiyakin
Source: www.rucriminal.info